Five steps to GPU power in Vegas Pro 11
by Gary Rebholz
The new GPU computing features in Vegas Pro 11 can make a big difference in your daily workflow. But some users are asking, what is GPU computing and why does it make such a difference? In this article we'll take a look at the new GPU capabilities of Vegas Pro 11 so that you can understand exactly what they are and how you can get everything out of them that they have to offer.
The first step to using GPU performance in your Vegas Pro projects is to understand just what the technology is and how you can access it. GPU stands for Graphics Processing Unit. The technology had its infancy way back in the 1980s and really started coming to life as 3D graphics started becoming more and more popular, not only in professional graphics but also significantly in the computer gaming world.
With all of the intensive processing required by 3D graphics, computer central processing units (CPUs) quickly became overwhelmed. GPU computing was developed as a way to lighten the load on the CPU. Basically, with GPU computing, the computer's CPU handles sequential, lower-impact processing while the processing of complex computations is handed over to the highly-efficient GPU which typically resides on the graphics card. GPU architecture often consist of hundreds of processing cores working in parallel to crunch through computations at blazing speed that the CPU simply cannot match.
Vegas Pro 11 now hands many of its computational tasks over to the GPU of any OpenCL™-enabled graphics card that you have installed in your computer. Many graphics-intensive tasks such as processing certain video filters and effects, compositing, pan/crop manipulations, and more are now driven by GPU processing.
With that basic understanding in place, let's talk about how GPU technology helps you in your Vegas Pro projects. There are two general areas that GPU acceleration impacts. First, project preview framerates can be significantly higher. This results in a much smoother preview experience even at preview qualities as high as Best (Full). For the first time you can often have the best of both worlds—high preview framerate and high preview quality—simultaneously as you edit. Figure 1 shows the difference in preview framerate realized when previewing a video event modified with the Bump Map filter at Best (Full) quality in both Vegas Pro 10 (top image) and 11 (bottom image).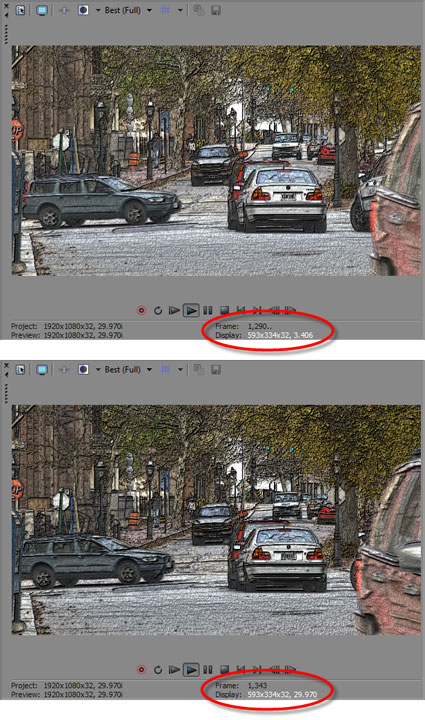 But it's not just all about preview framerate (as significant as that is!); Vegas Pro 11 also takes advantage of GPU processing during the render process. Specifically, with the initial release of Vegas Pro 11, GPU processing kicks in when you render to the AVC file format (either the Sony AVC or MainConcept AVC). This has been shown to cut render times to these formats quite significantly. In some of our tests and in reports from users, we've seen anything from two- to six-times speed improvement during the render process. In our recent live webinar we compared rendering a test project in Vegas Pro 10 to rendering the same project in Vegas Pro 11. The project took over four minutes to render in Vegas Pro 10 while Vegas Pro 11 blazed through the render nearly a full three minutes faster. That's quite an impressive performance gain!
Now that we understand what GPU is and where in Vegas Pro 11 you benefit from it, let's talk about how you benefit from it. In other words, what do you need to do in order to utilize this GPU horsepower?
As I mentioned, GPU processors typically reside on graphics cards. But it's not available on all cards. So, if you're going to take advantage of the wonders of GPU processing in Vegas Pro 11, you'll have to first set your computer up with a graphics card that supports the OpenCL standard for GPU and provides at least 512 MB of GPU memory. Although this might mean you'll have to go out and purchase such a card, the good news is that by utilizing the OpenCL framework, Vegas Pro is not tied to one graphics card manufacturer. In fact, the application works with a broad range of GPU devices from many different manufacturers at a variety of price ranges. While we've worked closely with industry leaders NVIDIA and AMD during our developmental process, Vegas Pro 11 is not limited to working with cards from only these manufacturers.
The next step to making the most out of the GPU from your graphics card is to make certain that you are using the latest drivers provided by the card manufacturer. Read the GPU acceleration page on our website for complete details and requirements, as well as the results of our benchmark testing.
Once you've got your qualifying GPU-enabled graphics card along with the proper software drivers installed, there's really nothing else you have to do to take advantage of GPU acceleration in Vegas Pro 11; it happens automatically. However, you do have some control if you want it.
If for some reason you want to use Vegas Pro without GPU acceleration during your editing process, choose Options | Preferences and click the Video tab. Click the GPU acceleration of video processing drop-down list. If you have a qualifying graphics card in your system, it appears in this list. If you don't want to use its assistance, choose Off from the list as I have in Figure 2. Click OK. A dialog box opens and informs you that you'll have to shut down the application and restart it for the change to take effect.  Click OK then close the application and restart it. Now Vegas Pro does not utilize the GPU from your graphics card during playback preview. To turn acceleration back on, follow the same steps but choose your graphics card from the GPU acceleration of video processing drop-down list. Once again, you'll have to shut down and restart the application.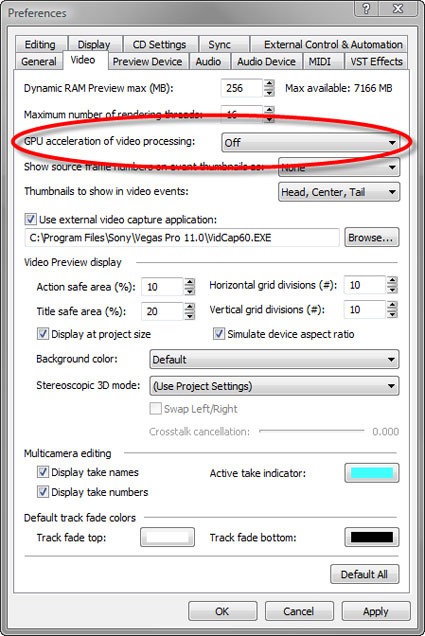 During the render process (when you render to the AVC format), Vegas Pro also automatically utilizes the GPU from your graphics card. But here again, you have the option to ignore GPU processing. To see this, choose File | Render As.  Click the Drop-down arrow for the MainConcept AVC/AAC file type and select the template you want to render to.
Next, click the Customize Template button. At the bottom of the Video tab of the Custom Settings dialog box, click the Encode mode drop-down list, shown in Figure 3. By default, Vegas Pro sets this to Automatic (recommended). This will automatically choose the option (GPU or CPU rendering) that will be the fastest for your project. Choose Render using CPU only to force the render to be handled by your computer's CPU. Choose Render using GPU if available to force the render to be handled by your GPU-enabled graphics card. After you've made your choice, click OK.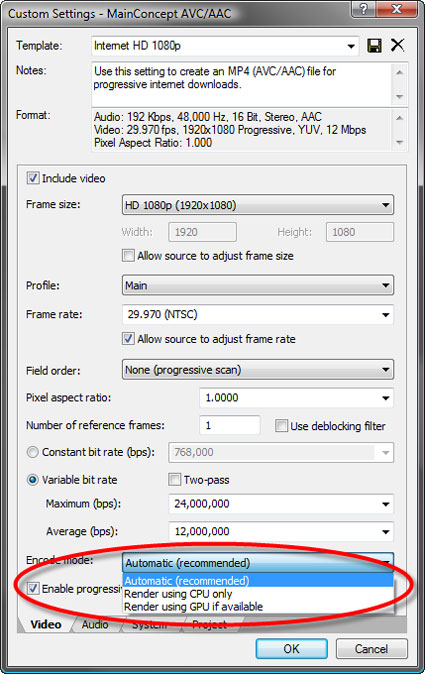 Among the many things that take advantage of GPU acceleration are several video effects and transitions. You can now sort your view of these plug-ins to isolate just those tools that support GPU processing. For example, to view those video effects that utilize GPU acceleration, click the Video FX tab. In the tree view on the left pane of the window, double-click the GPU Accelerated folder to expand it. This folder lists all of the video effect plug-ins that utilize GPU processing. You can sort your list of transitions in the Transitions window and media generators in the Media Generators window in the same way.
And that's it. That's all you really need to know in order to take advantage of GPU processing in Vegas Pro 11. In fact, that's more than you really need to know. As long as you have a qualifying graphics card installed into your computer, the default Vegas Pro settings will automatically tap into the card's GPU and give you accelerated performance—whether you really understand what's going on or not!
For more training articles and resources—including many free training videos and webinar archives—visit the training section of our website at www.sonycreativesoftware.com/training.

Gary Rebholz, is the training manager for Sony Creative Software. Gary produces the popular Seminar Series training packages for Vegas Pro, ACID Pro, and Sound Forge software. He is also co-author of the book Digital Video and Audio Production. Gary has conducted countless hands-on classes in the Sony Creative Software training center, as well as at tradeshows such as the National Association of Broadcasters show.