ACID Does Rewire
by Craig Anderton
They say two heads are better than one, and two programs can be better than one as well. ACID® Pro software certainly subscribes to that philosophy, because it incorporates the ReWire™ protocol.
ReWire allows two compatible programs to work together as one integrated program. For example, although ACID Pro 5 software ships with three software synthesizers, those who are deep into its MIDI capabilities might like to incorporate a larger suite of synthesizers, drum machines, and samplers.
ReWire to the rescue: It's possible to ReWire Propellerhead Reason™, which includes a ton of great sound generators, into ACID Pro software and treat Reason like an ACID "synth rack." Cakewalk Project5™ and Arturia® Storm Music Studio are other ReWire-compatible programs that are packed with instruments and work well with ACID Pro software. Basically, an ACID Pro MIDI track drives each software synthesizer, and each synth output shows up as a channel in the ACID mixer window. Yes, it's that simple.
Incidentally, some people think that ReWire is a CPU-intensive protocol, but it's not. Running two sophisticated programs at the same time can hit your computer hard, but ACID Pro software is quite efficient; most modern (or even semi-modern computers) should be able to run ACID Pro software and a second ReWire-compatible program without problems.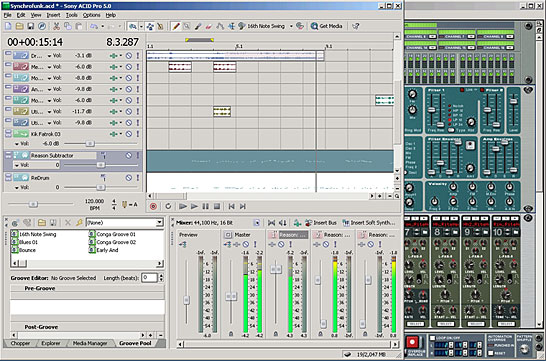 Here's how to rewire Reason into ACID Pro software. In ACID, go to Insert > Soft Synth. Instead of inserting a soft synth, click on the "ReWire Devices" tab. You'll see a list of ReWire-compatible devices installed on your computer, along with their available outputs.
Clicking on one of these outputs, then clicking on OK, creates a Soft Synth channel in the ACID mixer window. At this point Reason should open automatically, but if it doesn't, open it manually.
Reason has a total of 64 available outputs; each device can go to its own output, and each output can create a new channel in the ACID mixer window when selected. You can keep going Insert > Soft Synth and selecting Reason outputs as described above until you've inserted all the desired devices. But if that sounds like too much work, you can just insert Reason's mixed left and right outputs. These mix all the device outputs into a single stereo track, so you can simply set the balance of the various devices in Reason, and the overall level in the ACID mixer window.
Incidentally, many Reason instruments are stereo but unless they're patched to the mixed outs, each channel feeds a mono output. So, you'll need to create two mixer channels in ACID Pro software: One for the instrument's right channel, and one for the left. As the ACID mixer channels are inherently stereo, hold the Shift key to bring down the left fader on one channel, and the right channel on the other. Now you'll hear the Reason instrument in stereo.
You can record MIDI data into Reason's sequencer and have it play along with ACID Pro software, or record MIDI data into an ACID track, as ACID Pro software will pass MIDI data through to Reason. Click on an ACID MIDI track output assignment icon (the little keyboard), choose the desired Reason device, and you can play it from the controller feeding your MIDI interface's input. Cool!
Author/musician Craig Anderton's Sound, Studio, and Stage Internet forum is now starting its 11th year; check it out at www.harmony-central.com. For more information on Craig's activities, go to www.craiganderton.com.