Audio restoration and effects & processes
Use Sound Forge Audio Studio to digitize your rare vinyl LP records and tapes. Easily remove clicks, pops, and other noise from your audio files. Sweeten your sounds with more than 30 native signal and effects processing plug-ins, including compression, EQ, delay, chorus, and reverb. Sound Forge Audio Studio 10 includes a full suite of studio-quality tools that provide professional results. For a complete list of effects and processes see the technical specifications page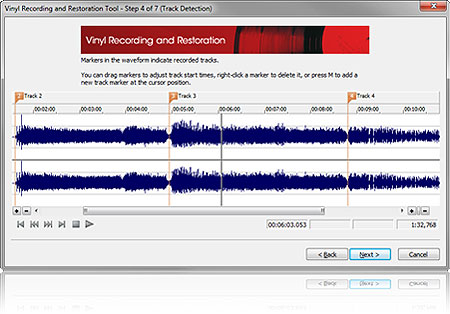 Enhanced vinyl recording and restoration tools
Digitize your rare vinyl LP records and tapes, and manage your personal audio archives easily with Sound Forge Audio Studio. The enhanced Vinyl Recording and Restoration tool steps you through the conversion process and even creates new files when it detects pauses. Adjust the start and end times of tracks, and fine-tune your master recordings before burning CDs or converting to MP3 and other popular formats.


Vinyl recording video


More than 30 built-in audio effects
Customize your audio with more than 30 native signal and effects processing plug-ins, including compression, EQ, reverb, delay, chorus and more. Alter time and pitch to fit the length of videos or create special effects. Normalize, resample, and reverse audio with ease. For a complete list of effects and processes see the technical specifications page.
VST support
Sound Forge Audio Studio natively supports VST audio plug-ins, significantly expanding your signal and effects processing options.
Resonant filter plug-in
Sound Forge Audio Studio includes the exclusive Resonant Filter plug-in, perfect for creating sweeps and effects in remixes, DJ sets, and original music.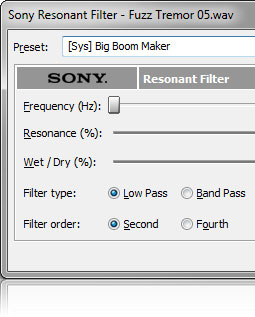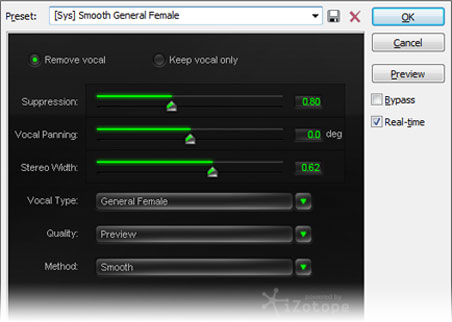 Vocal Eraser plug-in
Sound Forge Audio Studio 10 software includes the Vocal Eraser plug-in. Easily remove vocals from most recordings, or isolate and extract vocal tracks from songs for remixing. The Vocal Eraser plug-in contains presets for various genres and vocal types.
Exclusive sound effects
Included with Sound Forge Audio Studio software is our exclusive Sony Sound Series 1,001 Sound Effects collection, loaded with audio samples perfect for presentations, commercials, web sites, computer animations, and more.
Sound Forge Audio Studio 10.0 system requirements
Microsoft® Windows® XP (Service Pack 3 or later), Windows Vista® (Service Pack 2 or later), Windows® 7, Windows® 8, or Windows® 8.1 operating system
1 GHz processor
350 MB hard-disk space for program installation
512 MB RAM
Windows-compatible sound card
DVD-ROM drive (for installation from a DVD only)
Supported CD-recordable drive (for CD burning only)
Microsoft DirectX® 9.0c or later
Microsoft .NET Framework 2.0 (included on application disc)
Internet Connection (for Gracenote MusicID Service)
You must provide your registration information to Sony Creative Software Inc., a US company, in order to activate the software. Product requires online registration.

Sound Forge Audio Studio 10 resources
An update to Sound Forge Audio Studio 10.0 was posted on Nov. 19, 2013. Go »