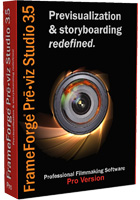 FrameForge Previz Studio 3: Pro

$599.95
FrameForge
®
Previz Studio 3 enables you to bring your artistic vision to life before a single frame of video is shot. Available in
Core
,
Pro
, and
Stereographic 3D
versions, FrameForge Previz Studio goes far beyond traditional storyboards by taking you into your sets and locations and giving you complete control of camera movement and field of view based on your actual camera and lens kit and the physical space of your shooting environment.
Using virtual 3D sets, FrameForge Previz Studio empowers you to freely place any number of virtual cameras, actors, and props, for a shot-by-shot, scene-by-scene representation of your script. Design your shots in FrameForge with confidence, knowing that the optically accurate results will allow you to effectively visualize what your audience will ultimately see.
FrameForge Previz Studio 3: Pro includes everything in the Core version and adds a number of important enhancements.
Powerful Real-Time Multiple-Source Lighting, with Lighting Mixer
Multiple-source lighting using SmartLights™ that can be pointed at any object with a simple click of the mouse
Multiple-source Overlapping Shadows instantly add depth and realism to any image, and they happen real-time as you work.
Automatic Sun Position based on your selection of the geographical location, date & time of your shoot anywhere in the world.
Physical Cameras and Associated Equipment
The cameras in FrameForge Previz Studio: Pro are both optically accurate and physically accurate. Choose the equipment you'll be using on set and you'll know how much track you need to rent, where you'll have problems with the jib arm swinging into a doorway and much, much more.
Dolly Tracks that "know" how to snap together automatically with dollies that "know" how to automatically follow the tracks
JL Fisher® Dollies, Cranes, Jibs & Crossarms that function exactly like their originals from their ability to follow dolly tracks to how high they'll crane or how the jibs or cross-arms will spin
Geared, Fluid & Three Axis Remote Heads all of which function as their real-world counterparts do
Low Hats, High Hats, Baby & Standard Tripods all sized to industry standards
Automatically be Informed of Camera Collisions even if the colliding part is the back of a jib or crane.
Export Automatic Equipment Reports and get a sorted list of all the camera equipment on every set
System requirements:
Windows XP, Vista or Windows 7
Dual-Core CPU or Equivalent
OpenGL Hardware Accelerated Graphics Card with 128MB Dedicated RAM
500 MB Free Disk Space
1 GB RAM
Mac OS X 10.4 or later
Dual-Core CPU or Equivalent
OpenGL Hardware Accelerated Graphics Card with 128MB Dedicated RAM
500 MB Free Disk Space
1 GB RAM
"I used to hire storyboard artists. Not anymore. FrameForge is much more practical and realistic, telling me precisely what I can and cannot shoot [and it] inspires me to come up with more effective lensing and staging all the time."
— Mike van Deim
    Academy® Award Winning Director
See for yourself why FrameForge Previz Studio is changing the way people think about storyboarding. Download Now.