HDV Workflow in Vegas Pro
by Gary Rebholz
In this article I want to continue to explore the workflow for different types of cameras and formats that we began last month with a discussion of the XDCAM EX line of cameras. While the EX format is a great option for a wide variety of shooting situations, it's obviously not the only game in town when it comes to shooting affordable hi-definition footage.
The HDV format offers another great hi-def route and Sony has a comprehensive lineup of fantastic HDV cameras. Several things make HDV a great choice for your high-definition video projects. It's a stable, robust, convenient format that gives you high-definition footage with file sizes no larger than DV files of the same length. You can shoot in either the 720p format favored by some manufacturers or the higher-resolution 1080i and 1080p formats used by Sony and others. It's also quite affordable.
All of these formats work seamlessly and natively inside Vegas Pro software. Let's explore the HDV workflow in Vegas Pro software and learn how you can make the best of the HDV gear you've purchased (or are looking to purchase).
We'll start with a discussion of the native, tape-based workflow. The HDV format uses standard mini DV tapes as its storage medium and you can use Vegas Pro software to easily transfer the footage from the tape to your computer drives so that you can start editing. First, connect your HDV camera or deck to your computer via an IEEE 1394 (more commonly known as Firewire or i.LINK) cable. It's always a good precaution to turn your camera or deck off before you make this connection in order to avoid potential damage to your gear. If you connected a camera, turn it on in VTR or VCR mode. If Windows asks you what you want to do with the new device it's found, just cancel the dialog box without taking any action—you'll let Vegas Pro software do all the work.
In Vegas Pro software, choose File | Capture Video. In the Capture Video dialog box, select the HDV or SDI radio button as I have in Figure 1 and click OK.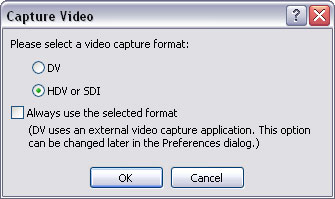 As you saw in last month's article or if you've captured DV in Vegas Pro before, the DV option opens an external application to handle transferring the footage to your hard drive. When you choose the HDV or SDI option as we did here, an integrated HDV Capture window opens docked in the Window Docking Area as you can see in Figure 2.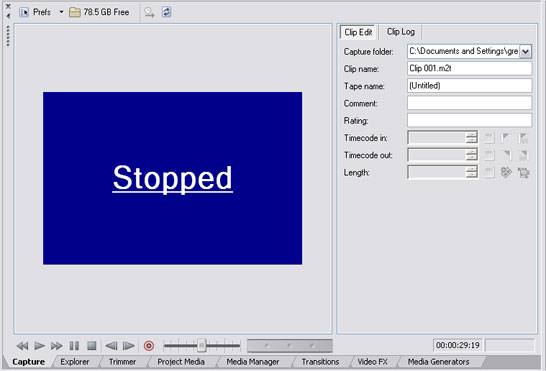 As you can see, assuming you have your deck or camera on with a tape in it, the Capture window displays "Stopped" to indicate that the tape is not playing. You can control the playback of the camera or deck from here in the capture window.
If the capture window indicates that it can't find your playback device, click the Capture Preferences button at the top of the window. In the Capture Preferences dialog box, click the Device tab. Click the Device type drop-down list and choose IEEE 1394/MPEG2-TS Device from the list and your specific device from the Device drop-down list. Click Apply.
As long as we're here in the Capture Preferences dialog box, let's address a couple of other important issues. Click the Disc Management tab. This shows the path to the capture location. By default it points to the My Documents folder. Since that's probably not where you want to store your footage, you should change the location now. Click the Add Folder button. In the Browse For Folder dialog box, navigate to the location that you want to use for capture. If you haven't yet set up a folder for capture, click the Make New Folder button and create one. When you're done, click OK.
The folder you selected now contains a green checkmark to indicate that it's the active capture folder. You could delete the original, default capture folder from the list if you want to, but it isn't necessary.
Now, click the General tab. There are several options here and you should take a look at them to see what's available. For now though I want to point out one in particular. Scroll down to the bottom of the list of options. You see that the Enable HDV scene detection preference is currently active. This means that as Vegas Pro software captures your footage, it will break up the footage from the tape into separate files according to when you started and stopped recording on your camera. Each time you started recording, Vegas Pro software will start a new file and that new file will contain everything you shot until you stopped recording that particular instance. While this can be handy, it's not always what you want. If you want the entire tape stored into one file regardless of how many times you started and stopped recording, then deselect the Enable HDV scene detection checkbox. Finally, click OK to accept all of these preference changes.
Now you're all set to move the footage from your device to your hard drive. Use the transport buttons at the bottom of the capture window to find the location on the tape that contains the footage you want to transfer to your computer drive. For instance, to get back to the beginning of the tape, click the Rewind button. From left to right across the transport button bar you see the Rewind, Play, Fast Forward, Pause, Stop, Step Backward, Step Forward, and finally the Start Capture buttons. Many of these are probably familiar as they are the same as the corresponding buttons on most cameras and decks.
Click the Play button. Your playback device starts playing the tape and you can watch the footage in the capture window's preview pane. When you get to the location on the tape where you want to start capturing, click the Pause button. If you didn't nail the start location exactly, click the Step Backward and/or Step Forward buttons to step through the video until you find exactly the right frame to start your capture on. You can also use the Shuttle control and (if your playback device supports it) the Scrub control to find the location you want on the tape.
Before you start the transfer procedure, take a look at the Clip Edit tab. The Capture folder drop-down list gives you another method for specifying the capture folder. Enter a name for the clip you're about to capture in the Clip name field and the name of the tape the clip comes from in the Tape name field. You can also add a comment and a rating if you want to. The Timecode in, Timecode out, and Length fields are not used for HDV capture at this time.
Now, click the Start Capture button to begin transferring the footage from your camera to your computer drive. When you've got the footage you wanted, click the Stop button. Note that some HDV devices may not allow Vegas Pro software to control playback. If this is the case with your camera, after you click the Start Capture button, you'll have to start and stop your device playback with the device's transport controls.
After you stop capturing, click the Clip Log tab. Here you'll see a list of what you've captured. If you left scene detection enabled and you captured past a point where you stopped recording on the camera and then started again, you'll see more than one clip in the clip log list.
Now you're ready to use your HDV footage in your project. Click the Project Media tab to bring the Project Media window to the front. If you don't see the Project Media tab, choose View | Project Media to open the Project Media window. As you can see in Figure 3, the Project Media window already contains the clips you just captured and you can drag those clips to your timeline and start editing. In Figure 3, I'm viewing my project media in Detailed mode. Click the Views button to change the mode you're viewing your media in. Since I had scene detection enabled, I have two clips in my project media list.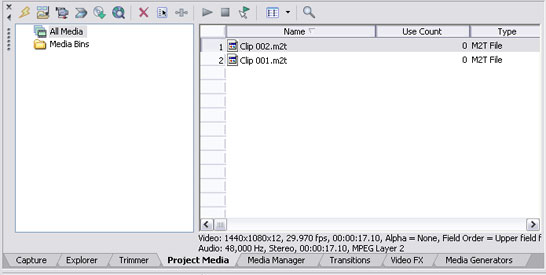 Notice that the transferred clips have the .m2t file extension. The .m2t format is an MPEG-2 Transport Stream and it's the format that HDV cameras shoot to. Vegas Pro software uses these files natively, so a transcoding step (and the quality loss that often comes along with it) is not necessary. When you edit your HDV clips in Vegas Pro software, you're using the exact quality that the camera shot.
Now that you've got the clips on your drive, drag them to the timeline. You can use them in any project and mix and match them with clips of any other format that you might also be using. You might want to change your project video properties to match your HDV footage for best preview playback performance. Click the Project Video Properties button in the Video Preview window. In the Project Properties dialog box, choose the appropriate HDV template from the Template drop-down list. For instance, since I'm in North America and I shot at 1080-60i, I choose the HDV 1080-60i (1440x1080, 29.970 fps) template from the list. Click OK.
Now you can use all of the editing tools and techniques to create your video with HDV footage. Those editing techniques are covered in other newsletter articles, our online training video resources, our Seminar Series packages, and the Digital Video and Audio Production guide book, so we'll skip them here for now and jump right to delivering your project.
As always with Vegas Pro software, choose File | Render As to render your project out into whatever format you need to deliver in. In other words, you don't have to deliver to HDV just because you used HDV footage in your project. But you can!
You can also print your project back to HDV tape if you need to deliver it (or archive it) that way. To do that, make sure your camera or deck is still connected via i.LINK, pop a blank tape into it, and choose Tools | Print Video to HDV Tape. Select the device you are printing back to in the Device drop-down list of the HDV Print to Tape wizard and click Next.
Make your appropriate choices on the Select Format/File page of the wizard. Notice that if you choose the Render format option, you'll print the current project to tape—that's the option I'm using. However, if you want to print a file that you had previously rendered into HDV back to tape, select the Use an existing file radio button and navigate to the file you want. Click Next.
If your recording device supports device control—meaning Vegas Pro software is allowed to start and stop playback and record—select the Crash Recording radio button. If your device does not support device control, select the Manual radio button. Click Finish.
If you selected to print the current project, the project begins to render. One great thing about working with HDV in Vegas Pro software is that if you are rendering back to a file that has the same attributes as the HDV media you've used in your project, no recompression is necessary. In other words, for those parts of your project that use unaltered HDV, if you're rendering back to the same format Vegas Pro software simply transfers the information from the computer drive to the rendered file. This speeds up the rendering process immensely.
When the render is complete and your playback device gives Vegas Pro software machine control, the print-to-tape procedure begins. If your machine does not support machine control, another wizard opens. The first page of the wizard enables you to set the amount of time that will lapse after you initiate the print operation and before it actually starts. This gives you time to manually start recording on your device if it doesn't support machine control. Click Start.
After the specified countdown, Vegas Pro software prints your project to your HDV tape and you now have an HDV archive.
Now that we've discussed the basic tape workflow for HDV, let's talk about how you can use Vegas Pro software to take advantage of a couple of other great devices to make the job of getting your footage onto your computer even easier and faster. Sony offers two tapeless devices that not only work great with your HDV camera, but also work seamlessly inside Vegas Pro: the HVR-DR60 Hard Disk Recorder and the new HVR-MRC1K Compact Flash Memory Recording Unit. With these devices you can bypass tape altogether and record directly to a hard disk (with the DR60) or to compact flash memory (with the MRC1K). Doing so saves you a great amount of time transferring the footage to your computer drive because a file transfer can happen much more quickly than the real-time function of capturing from tape.
Some of the newer model Sony HDV cameras, like the HVR-Z7 and HVR-S270 series cameras, ship with the MRC1K unit included. The unit, shown in Figure 4, can be connected to these cameras, as well as cameras in the HVR-V5 series, via a direct connection that doesn't require any cables. The unit can also be purchased separately and connected to older HDV (and DV) cameras with the included mounting cradle which enables you to connect it to the camera via an i.LINK cable.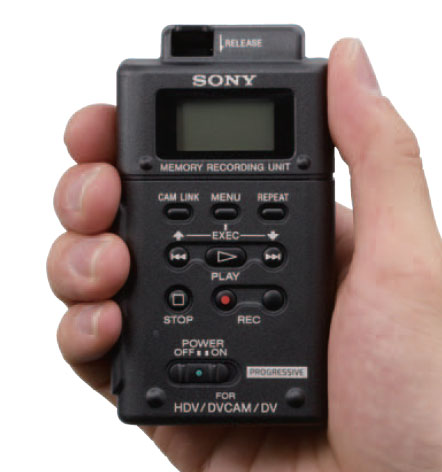 With the largest flash memory cards currently available, you can get around 70 minutes worth of shooting time. The DR60 hard disk recording unit holds 60GB worth of files which translates to around four and a half hours worth of recording time.
The DR60, shown in Figure 5, is roughly the same size as the MRC1K and can also be mounted directly onto your camera and connected via an i.LINK cable. Both of these units enable you to shoot simultaneously to tape and the flash or hard disk memory. This makes it possible to simultaneously create instantly accessible files and a tape archive of the shoot.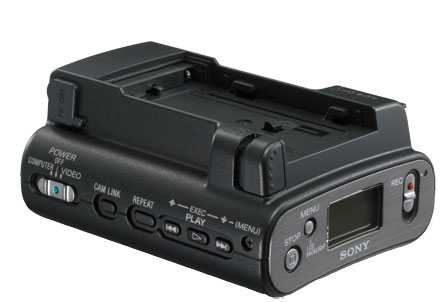 Once you've shot your footage to either of these units, it's easy to use that footage in Vegas Pro software. However, the procedures for transferring your footage from these units to your computer drives is different than the tape capture we discussed above, so let's take a quick look at how to do it.
I've got a DR60, so I'll go through that workflow. The workflow for the MRC1K is almost the same as what I'll describe here. First, with your unit's power off, connect it to your computer with an i.LINK cable. If you're using the MRC1K, remove the flash memory card from your unit and insert it directly into a card reader on your computer. You may get faster transfer times than you would by connecting the unit via i.LINK. Assuming you've connected via i.LINK, turn the unit on. If Windows gives you a Found New Hardware dialog box, just cancel it without installing any drivers—it's not necessary to install anything. If a Windows dialog asks what you want to do with the new device, cancel that too.
In Vegas Pro software, choose File | Import | Hard Disk Recording Unit. If you're using the MRC1K, choose File | Import | Flash Recording Unit. This opens the Import from Hard Disk (or Memory) Recording Unit dialog box. Use the Source drop-down list to specify your unit. In the Destination drop-down list, specify the folder on your computer drive that you want to transfer the footage to. Click OK.
When you're shooting HDV, the DR60 breaks the footage up into separate files when a file reaches a size of 2GB. During the transfer process, Vegas Pro software seamlessly assembles those separate files together to create one continuous file. This way if you shoot for a long time, you'll end up with one continuous file to work with instead of a series of shorter files.
All of the new Sony cameras and devices that support the HDV format demonstrate just how fast the format is growing in popularity. Vegas Pro software's ability to handle and work effortlessly with the format and these devices give you a powerful combination for high-definition workflow!
One more thing: If you want to see a video version of this article in which you can follow along and see exactly how this all works, check in at the beginning of February when it will appear as the next installment of videos hosted by Les Stroud. For training videos covering other Vegas Pro software topics as well as videos for other Sony Creative Software titles, visit the Free Videos section of the Training and Support page at www.sonycreativesoftware.com/training.

Gary Rebholz, is the training manager for Sony Creative Software. Gary produces the popular Seminar Series training packages for Vegas Pro, ACID Pro, and Sound Forge software. He is also co-author of the book Digital Video and Audio Production. Gary has conducted countless hands-on classes in the Sony Creative Software training center, as well as at tradeshows such as the National Association of Broadcasters show.