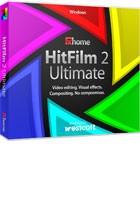 HitFilm Ultimate 2

US $399.95
All your essential editing tools, over 150 effects and groundbreaking 3D compositing with a revolutionary workflow. World class particle simulators with physics-driven and audio-driven behaviour, professional chroma key and advanced color correction. Import and animate 3D models with high quality lighting and shadowing and automatic motion blur and depth of field. Track features in 2D and camera solve in 3D with mocha HitFilm from Imagineer Systems. Extensive titling and motion graphics tools, including 3D extrusion. HitFilm 2 Ultimate is the only product to combine editing, visual effects and compositing without any compromises.
Product Highlights
Easy to use — Incredible power in an intuitive interface. Fast to learn, with limitless potential for discovery.
Multi-track video editing — HitFilm's editor includes all the essential editing tools — ripple, roll, slip and slide, plus timeline graphs for opacity and volume.150 effects included — HitFilm 2 Ultimate includes over 150 professional effects. Design unique, high quality visuals for your projects with vast customization options and an intuitive interface. No plug-ins required.
World class particle simulator — Design your own 3D particle effects with physics-driven behaviour including deflectors with impact reactions.
Work with 3D models — Built-in support for using 3D models inside HitFilm, with lights, shadows, motion blur and depth of field. It's a revolutionary workflow.
2D & 3D tracking — Super-fast optical flow feature tracking plus mocha HitFilm for planar tracking and 3D camera solving. The perfect tracking solution.
Organic particle arrays — Create stunning, organic, fractal animations with hundreds of thousands of particles. The shapes can even animate automatically to music.
Import 3D camera tracking data — Camera tracking data from software such as PFHoe, SynthEyes, Boujou and Voodoo can be imported to HitFilm 2 Ultimate, enabling advanced 3D compositing.
Procedural destruction — Shatter your videos and images into thousands of 3D fragments, add realistic gunfire to your props, create electrical storms and splash blood across your lens.
Grunge & damage — Age your video with realistic film & TV damage, lens dirt, artificial grain, automatic shake and optical flow motion blur.
Lights & flares — Design your own lens flares and have them lock automatically to the brightest parts of your frame. Create volumetric light rays and anamorphic streaks for beautiful lens effects.
Superior 2D & 3D compositing — Combine traditional 2D layer compositing with an advanced 3D workspace and sophisticated animation controls.
Keying & matte creation — Professional, fully featured chroma key for green screen removal and a wide range of tools for perfecting and enhancing your composites.
Lights & shadows — Create lights in 3D space that cast realistic shadows. Essential for matching the lighting in your live action shots.
Depth of field — HitFilm's 3D cameras work just like real cameras, with optional depth of field automatically blurring layers based on their relative distance from the lens.
Motion blur — Turn on automatic motion blur for more realistic movement of your 2D and 3D layers.
Minimum System Requirements:
Operating system — 64-bit Microsoft Windows 8, Windows 7 & Windows Vista
Processor — Intel Pentium 4 or AMD Opteron/Athlon 64 or above; Multicore or multiprocessor for HD projects and media
Graphics card — Intel HD 3000, nVidia 7900 GT or AMD/ATI Radeon HD 2900 GT or above with 512 MB video memory; 1024 MB or more recommended for HD projects and 16-bit color rendering; 1024 x 768 resolution, 32-bit color display
Memory — 2 GB of RAM; 4 GB or more recommended for HD projects
Storage — 300 MB hard drive space for program installation
DVD-ROM drive for installation (boxed version only)
Internet connection for online activation and HitFilm.com web services
Apple QuickTime 7.6 or above for importing QuickTime media files