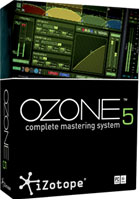 iZotope Ozone 5

US $249.95
Ozone 5 combines eight essential mastering processors into one complete system, letting you give your mixes a full, finished, and professional sound. All of these modules are combined into a single, powerful interface, making the mastering process more efficient and intuitive than ever before. Whether you're a seasoned professional or simply ready to take your productions to the next level, Ozone is the complete solution you need. Your mix isn't finished until Ozone is on it.
Eight essential mastering tools in a single integrated plug-in: Maximizer, Equalizer, Dynamics, Stereo Imaging, Post Equalizer, Harmonic Exciter, Reverb, and Dithering.
Pristine sound that combines analog-modeled processing with linear-phase precision.
Flexible sonic capabilities for adding realistic warmth, bite, punch, and space to your mix.
Valuable visual feedback via extensive metering, spectrum analysis, and polar vectorscope tools.
iZotope's third-generation IRC™ Limiter for louder, fuller masters that preserve crisp transient detail.
Multiband modes in the Dynamics, Stereo Imaging, and Harmonic Exciter modules for precisely adjusting up to 4 frequency bands independently.
Mid/side processing for tailoring the sound of the center and edges of the stereo image separately.
Elegant, highly-efficient user interface with an intuitive workflow that's optimized for today's low-latency DAW.
Comprehensive preset system with 100+ professionally-designed presets, new per-module presets, and Amount Controls for rapid-fire fine-tuning.
Documentation that helps demystify the mastering process.
System Requirements:
Operating System: Windows (XP SP2 or later, x64, Vista, Windows 7); Mac OS X 10.5 or later (Universal Binary)
Plug-in Formats:
Pro Tools 7.4+ (RTAS/ AudioSuite), AXX, VST, MAS, Audio Unit, DirectX
Complementary SONY Products:
ACID, Vegas, Sound Forge
Customer Reviews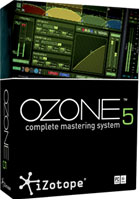 iZotope Ozone 5
Great mastering Plugin
This product is one of the best plugin available at the market.
July 16, 2013
Ozone 5
From a simple eq to an ultimate change !! Ozone has the powerful tools to change drastically your sound or mix into an professional sound !!
May 2, 2013
Ozone
This is a simple review. The screens need some work to understand but in performance, the music sounds great when I pass it thru these effects.
March 20, 2013
Ozone
I have been using Ozone since version 3 and 5 seems to be a nice upgrade as 4 was to 3. I find this to be a clever bundle of plug ins that are integrated specifically for pre-mastering purposes, although they can be used for individual track processing as well. If you have a reasonable level of audio knowledge behind you, most of the operational features and concepts should be very straightforward to grasp and use. I find the mid-side functionality to be of particular use. If you are new to the audio world, I would probably steer away from this for the time being as you might find you can get into some trouble without realising it. Either way, I would recommend this product as it is quality for price.
March 8, 2013