Managing VST Effects in Sound Forge
by Craig Anderton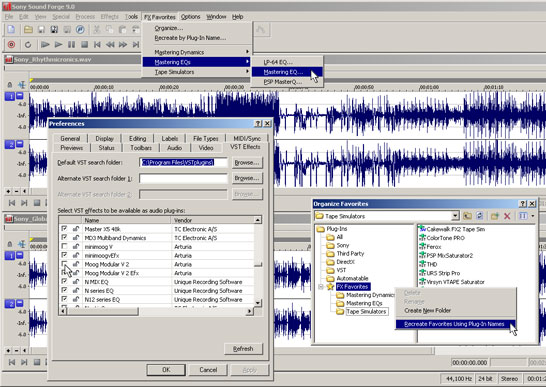 Sound Forge comes with lots of effects, but it also supports DirectX and VST effects from third parties. Here are a few tips on maximizing their usage.
Removing unsupported effects: Some programs include VST effects that are "keyed" to work with that program only. And some plug-ins are poorly written, causing instability. There's no need to make these available in Sound Forge; to de-select them (as well as effects you don't expect to use, or virtual instruments that show up as effects but aren't useable as effects), go Options > Preferences > VST Effects tab. Uncheck plug-ins you don't want Sound Forge to "see."
Finding "missing" VST effects: Sound Forge scans for VST effects, but it needs to know where to look. Although many programs will scan for an existing folder containing VST effects and install into that folder, they may also create a new folder and install the effects there. As a result, there might be multiple folders with VST effects. Sound Forge will find a default VST search folder, but if it needs to scan more folders, on the Options > Preferences > VST Effects tab you can browse for alternate folders containing VST plug-ins and select them as alternate places for Sound Forge to scan. Afterward, click on the Refresh button to re-scan. Hint: Create a path for VST plug-ins, like C:\Program Files\VSTplugins, and install all your plug-ins there (and make it the default folder for other programs). Then they'll all be in one convenient location.
Organizing effects: This is really handy. From the menu bar, go FX Favorites > Organize. The left side shows a tree of folders, and the right, the plug-ins contained in a selected folder. However, there's also an FX Favorites section on the left that can contain plug-ins organized within folders of your choosing.
To create a new favorites folder, right-click on FX Favorites and select Create New Folder. Name it, then click on the All folder to see a list of all plug-ins. Drag the ones you want into your newly-created favorites folder (plug-ins are not removed from the All folder, simply copied).
Another organization option is to go FX Favorites > Recreate by Plug-In Name (or, right-click on the FX Favorites "star" in the Organize Favorites window). This removes all favorites folders, and sorts all plug-ins into new folders based on the plug-in name's first word (typically, the manufacturer's name). If there aren't groups of plug-ins with the same first word, they're put individually in the FX Favorites folder. To remove or rename Favorites folders or individual effects, right-click on the object and select the desired option.
Craig Anderton just finished playing in Europe with legendary Germany musician Dr. Walker. He also plays guitar with Public Enemy's Brian Hardgroove in the band EV2, and is Editor-in-Chief of www.harmony-central.com, where he hosts the Sound, Studio, and Stage forum.