Meet Your New Driver: ASIO
by Craig Anderton
With new ASIO driver support, Sound Forge 8 software now joins ACID® and Vegas® software in supporting this industry standard for audio interfaces. Let's investigate how to maximize ASIO's potential.
WHAT'S AN ASIO?
The software that provides a "bridge" between software and hardware is called an API (Application Programming Interface). This is a component of driver software, which allows a program like Sound Forge software to transfer its digital audio data to a sound card.
ASIO (Audio Stream Input/Output, originated by the German company Steinberg) is one of several audio APIs. Others include MME and DirectSound. But ASIO has become popular for several reasons: It's cross-platform, handles multichannel audio efficiently, and can provide very low latency (the delay that occurs as a signal goes from a digital system's input to its output).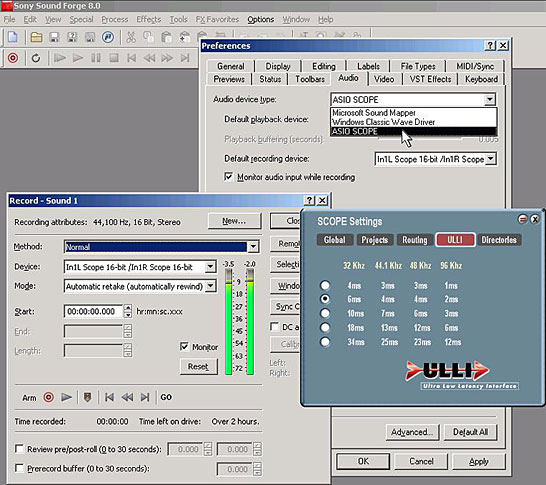 If you're recording into Sound Forge software without a low-latency driver, you're limited to either monitoring only the signal going into the program, or hearing an annoying output delay compared to the input. With ASIO, it's possible to monitor the program's output in near real time, which makes it possible to hear (for example) any clipping that occurs in the converters feeding Sound Forge software.
ASIO TIPS
Drivers are constantly being improved, so check the audio interface manufacturer's web site for updated ASIO drivers.
ASIO sound cards include a "control panel" application that lets you adjust the latency by checking a box, and/or let you specify a number of "buffers" (temporary storage that ensures a continuous flow of audio data; more buffers means more latency). This flexibility is necessary because all computer systems, audio interfaces, and circumstances aren't always the same.
Lower latencies are desirable, but place more stress on a computer's CPU. You may start a project in Vegas or ACID software with only a few tracks and low latency, but as you add more tracks and plug-ins, experience audio clicks or "gapping." Increase the latency for smoother playback.
If you record using higher sample rates, you'll likely need to increase the number of buffers.
If you change latency settings, it's good practice to exit the program you're using, then open it again.
Beware of pseudo-ASIO drivers, called "Emulated ASIO," "ASIO Multimedia," and the like - use the main ASIO driver provided by the manufacturer for their hardware. Typically, it will include the name of the audio interface or manufacturer (e.g., ASIO SCOPE is the name of the driver for Creamware's SCOPE system).
For minimum ASIO latency with Windows XP, go Start > Control Panel > System > Advanced tab > Performance Settings > Advanced, and set Processor Scheduling to "Background Services."
Finally, in late-breaking news from the Frankfurt Musik Messe held in early April, Steinberg announced ASIO version 2.1. This supports the Sony DSD (Direct Stream Digital) audio protocol, as used in SACDs. This will likely make ASIO an even bigger "player" in the audio industry, as DSD technology has already been adopted by other manufacturers for functions like high-fidelity audio recording.
Craig Anderton has released three loop libraries, written over 20 books on music technology, and remains active as a performer with the German group Rei$$dorf Force. Check out his web site at www.craiganderton.com.