Audio tools
Movie Studio includes powerful audio tools that enable you to create movies that sound as good as they look. You can use the software to create custom music soundtracks, remove unwanted noise from video footage, apply effects to a single audio event, use track envelopes to control audio volume and panning, record and edit live audio, and more!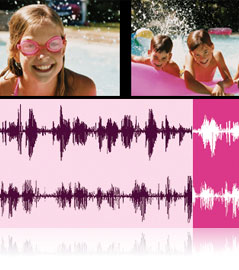 Add music
Use your favorite song to create a soundtrack for your movie! Simply import music from CDs or MP3 audio files directly into the program and then drop them on the timeline.
Restore audio
With the Audio Restoration plug-in, you can remove clicks, pops, and other unwanted noise from your music and audio clips to ensure the highest fidelity soundtrack for your video project.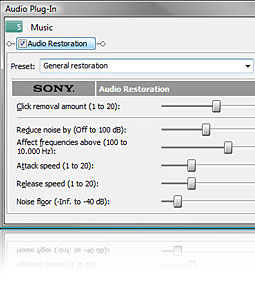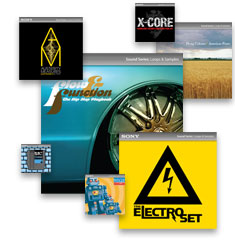 ACID loop support
For easy video scoring and audio mixing, Movie Studio includes Sony Sound Series Loops & Samples support. Sony Sound Series features royalty-free music and sound samples that contain special metadata which allows them to automatically match the existing project tempo and key. The Sound Series: Loops & Samples collection harbors a vast array of music and sound in a variety of styles and genres.
Easy live recording
Record your own audio such as voiceovers, music, and narration to be included in your project. Movie Studio provides ten audio tracks, any of which can be used to record. You can also create different versions of your recording that you can later choose from to include in your project.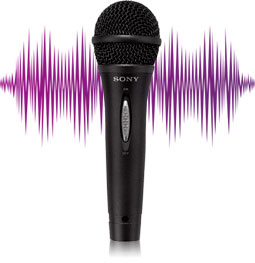 Movie Studio system requirements
Microsoft® Windows® XP SP3, Windows Vista® SP2, Windows® 7, Windows® 8, or Windows® 8.1 operating system
2 GHz processor (multicore or multiprocessor CPU recommended for HD)
400 MB hard-disk space for program installation
1 GB RAM (2 GB recommended)
IEEE-1394DV card (for DV capture and print-to-tape)
USB 2.0 connection (for importing from AVCHD or DVD camcorders)
Windows-compatible sound card
DVD-ROM drive (for installation from a DVD only)
Microsoft .NET Framework 3.51 (included on application disc)
Apple® QuickTime® 7.1.6 or later
Internet Connection (for Gracenote MusicID Service)
You must provide your registration information to Sony Creative Software Inc., a US company, in order to activate the software. Product requires online registration.
Microsoft and Windows are registered trademarks of Microsoft Corporation in the United States and other countries. Apple and Quicktime are trademarks of Apple Inc., registered in the U.S. and other countries.