The new Vegas Pro 11 Render dialog
by Gary Rebholz
Let's face it; there's nothing very sexy about rendering your video and audio projects. Everyone hates the render step, but everyone also recognizes that they can't get far with delivering their project without out it. So, like it or not, there has to be a render step. That's the unfortunate news. The good news is that the new Render As dialog box in Vegas Pro 11 makes the process a bit more pleasant than it was in earlier versions of the application. The new dialog box offers several improvements that make it easier for you to find the exact render parameters that you want to use. In this article, we'll take a good look at the Render As dialog box and see how it makes your life easier.
To start, open a Vegas Pro project and choose File | Render As. Let's take a look at the dialog box, shown in Figure 1, from the top down.  The Folder field displays the current file save path. If this is the first time you've ever rendered a project in Vegas Pro, then this field points to the Documents folder on your C: drive. If you've previously changed the render location, this field contains the location to which you last rendered a project. Click the Folder drop-down arrow. The drop-down list displays several of your most recent render locations. To reuse one of those locations, select it from the list.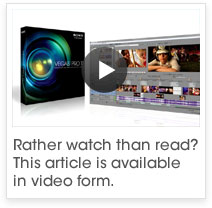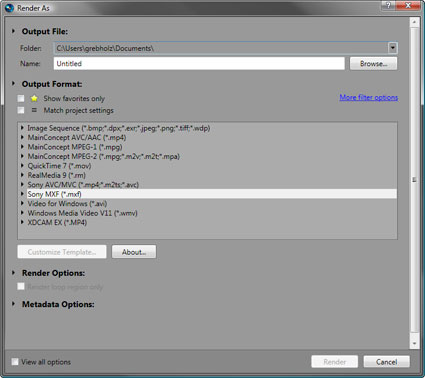 If the location to which you want to render doesn't appear in the list, click the Browse button. This opens the Save As dialog box where you can navigate to the correct folder and enter a name for your file. The Save as type field indicates the currently selected file format. Don't worry if it's not the format you want because we'll change that later.  When you've made your choices, click the Save button.
Let's back up for just a second. Notice the Output File section heading for this area. Click the Output File expand button. In this case, this reveals further information about this section of controls, but as you see later, expanding other sections reveals many helpful tools. So, this is the first way that the new dialog box helps you: it gives you a way to hide and reveal information based on whether you need it or not, thus giving you a little more control over your workspace. Click the Output File expand button again to hide the information.
The Output Format section contains a number of very useful tools that make the rendering process more efficient. Skipping the first couple of items in this section (which we'll come back to later), you see a list of all of the supported file formats that you can render your project to. As usual, if you have only video and no audio in your project, this list shows just video formats like AVC/AAC, MPEG, MXF, and others. If you have only audio in your project, the list shows just audio formats like MP3, WAV, AC3, and so on.  If your project timeline contains both audio and video events, then you see both audio and video formats in the list.
Notice that each file format has an Expand button next to it. Click the Sony MXF expand button. This reveals all of the render templates for the Sony MXF file type. That's your second helpful new feature: you no longer have to wade through templates that are not related to the file format you've chosen.
If you need to, scroll down the file format list until you see the two render templates that have the Match project settings indicator (the equal sign) next to them. This assumes that you've left your project properties set to their default values. You might recall from earlier versions of the software that this indicator alerts you to the fact that the render settings of these templates match your project properties.
Notice also that each render template has a hollow star in front of it. This star enables you to mark any template as a favorite. Click a few of the stars now. The stars you click turn yellow to identify them as favorites as you can see in Figure 2. You could click a yellow star to take the template off of your favorites list. Marking a template as a favorite like this is the third way the dialog box makes your life easier.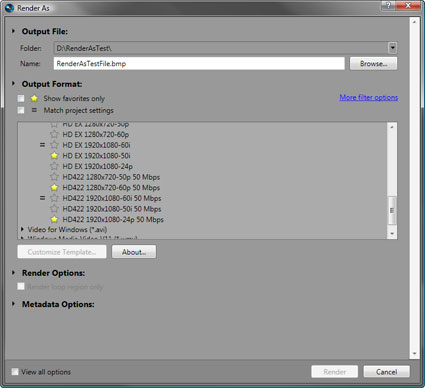 Now that you've marked a few favorites, let's go back up to the buttons we skipped a few moments ago. The fourth way that the new render dialog box makes your life easier—and this is a big one—is that you can now sort your file format and template view in a number of ways. For instance, select the Match project settings checkbox. Now, your file format list shows only formats that have one or more templates that match your project settings.
Now, deselect the Match project settings checkbox and select the Show favorites only checkbox. Now, only those few templates that you marked as favorites a few moments ago show up in the list. This is an incredibly useful feature since, if you're like me, you tend to render to the same few templates most of the time. Figure 3 shows my Render As dialog box after I've sorted the file format list by my favorites. Deselect the Show favorites only checkbox.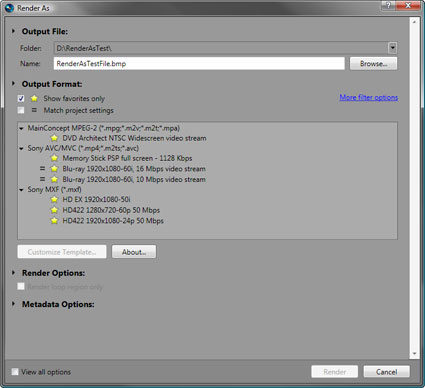 As useful as these two features are, they aren't your only new sort options. Click the More filter options link. This reveals many more options such as Video templates only, frame rate and size, aspect ratio, and so on. To sort your template list by any of these options, select the appropriate checkbox. And there's nothing saying you can't select more than one checkbox. So, if you want to sort to see just your favorite video templates that match your current project frame rate and audio channel count,  select each appropriate checkbox and you have your wish.
And, we're still not done with the sorting possibilities yet. Deselect any checkbox that you currently have selected and click the Hide filter options link to hide all of the extra options. Now, click the Output Format expand button. In addition to some explanatory copy and a new box that contains the details of your selected template, this also reveals a search field. This field gives you even more power to sort by just about anything you want. For example, if you want to see only your PAL templates, type "PAL" into the Search render templates field. This sorts your template list accordingly. You can enter anything you want into this search field. Select the string "PAL" and delete it from the field to show all templates again.
The Render and Metadata Options contain items that have been available for the past few versions of the software, but the expand buttons enable you to show or hide these options as needed.
The final way that the new Render As dialog box helps you is the View all options checkbox at the bottom of the box. Select the View all options checkbox now. This instantly expands all of the section headers that we've talked about so far so that you can see all of your options and information at one glance (assuming you size your Render As dialog box appropriately.) Deselect the View all options checkbox to collapse all headings again.
For more training resources, including free videos, webinar archives, tutorial article archives, and more, visit the training section of our website at www.sonycreativesoftware.com/training.

Gary Rebholz, is the training manager for Sony Creative Software. Gary produces the popular Seminar Series training packages for Vegas Pro, ACID Pro, and Sound Forge software. He is also co-author of the book Digital Video and Audio Production. Gary has conducted countless hands-on classes in the Sony Creative Software training center, as well as at tradeshows such as the National Association of Broadcasters show.