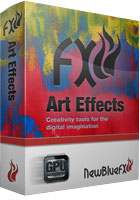 NewBlue Art Effects

US$169.95
NewBlue Art Effects collection of 100 effects in 10 specialized GPU-accelerated video filters shifts your video into a visually stunning alternate reality. Using NewBlue Art Effects, you can make a scene look as if it were hammered out of metal or convert your video image into hand-drawn art. NewBlue Art Effects is the perfect way to make your scenes stand out with artistic flair.

This collection includes: Air Brush, Color Melt, Colorize, Dream Glow, Duochrome, Ghost, Hand Drawn, Line Drawing, Metallic, and Pastel Sketch.
Air Brush — Creates an air brushed effect by smoothing colors while maintaining sharp edges.
Color Melt — Expands and softens the colors for a wild air-brushed lava lamp look.
Colorize — Reproduces the look of a black and white film that has been "colorized" by repainting over the gray scale image with a simple palette of solid colors.
Dream Glow — Amplifies the lighter regions of the image with a soft light that bathes everything surrounding it.
Duochrome — Applies two colors to a video to create a special two-color-only image.
Ghost — Cloaks the picture in a colored shiny fog.
Hand Drawn — Makes the image look like it was drawn by hand. Hand Drawn creates dark lines that sketch over vibrant colors.
Line Drawing — Converts the image into a series of dots and lines painted on a blank sheet of paper.
Metallic — Paints everything in the picture so it looks as if it were hammered out of metal.
Pastel Sketch — Creates the effect of a painting in pastel colors with inked edges.
System Requirements:
Vegas Pro 8.1, 9.0, 10, 11 OpenFX (32/64-bit versions), Vegas Movie Studio 4 or higher