Noise Reduction™
The Noise Reduction™ 2.0 collection contains four powerful DirectX® sound restoration plug-ins: Audio Restoration™, Noise Reduction, Clipped Peak Restoration™, and Click and Crackle Removal™. Save valuable time and money by applying Noise Reduction processing power to salvage vintage vinyl recordings and rescue problem tracks. For basic restoration solutions, use the Noise Reduction plug-in preset parameters, or develop and save your own custom settings for complete control and unlimited flexibility. Whether you're in radio, multimedia, archival, or music production, the Noise Reduction plug-in collection will prove an invaluable addition to your audio editing suite.

Use this plug-in collection with Sound Forge™ software or any other DirectX-compatible host application to clean up your audio files and achieve professional results.
Restore your record library
Restore sonic purity to your vinyl collection after converting it into digital audio data. In a single operation, the Audio Restoration™ plug-in eliminates source material pops and clicks as well as broadband surface noise.

Further enhance your converted media with the Click and Crackle Removal™ plug-in. It automatically detects and silences clicks, pops, and crackles. Adjust click shape, size, and sensitivity controls and surface noise level thresholds, and then add a low frequency rumble filter to reclaim even the most vintage vinyl.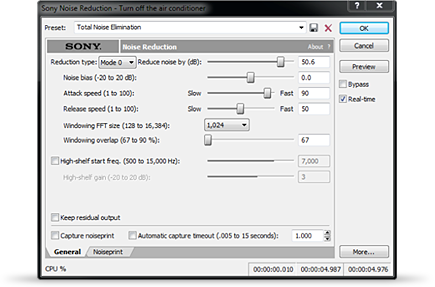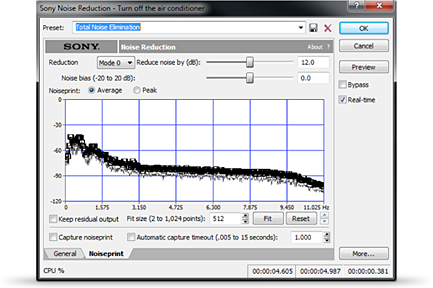 Rescue Problem Tracks
Eliminate background noise while preserving the integrity of the original source material. With the Noise Reduction plug-in, analyze and remove background noise such as tape hiss, electrical hum, and turntable rumble, all without compromising the source material. Generate unique noise print profiles to create the ideal restoration scenario for any media.

Rescue problem tracks in your audio projects by reshaping clipped peaks in your digital recordings. With the Clipped Peak Restoration™ plug-in, you can minimize clipping artifacts and reduce harsh distortion. The process algorithm mathematically recreates the shape of the audio waveform beyond the clipping threshold, rounding off the clipped peaks. Built-in peak limiting functionality then automatically restores the sound to its proper level.
Uses
Remove camera motor noise from video projects
Eliminate rumble and subsonic noise
Eliminate clicks and pops from recordings
Remove tape hiss and electrical hum
Reshape clipped waveforms
Extract noise from files without signal loss
Capture noise prints of unwanted frequencies
Create custom presets for use on other files
Features
Four modes offer a choice of algorithms
Gain fader dials out noise to your exact dB preference
Adjustable attack and release envelope parameters
Bias control for fine-tuning noiseprint amplitude
FFT size / Overlap controls help manage processing time
Adjustable high-shelf gain for post-NR brightening as needed
Monitor only the noise in isolation
---
Click and Crackle Removal™
Clicks and pops are often found in older recordings, or are the result of bad splice editing. Unfortunately, clicks and pops can also occur in the digital domain as well. In both cases, they can be detected visually as sharp glitches or spikes in the normal shape of a waveform. The Click and Crackle Removal plug-in is designed to analyze a sound file or selection and remove all clicks automatically.

Features
Automatic removal of clicks and pops
Removal of crackles typically found on old vinyl
Click replacement with audio from opposite channel
Useful verification and sensitivity controls
Hear the clicks and crackles in isolation when setting parameter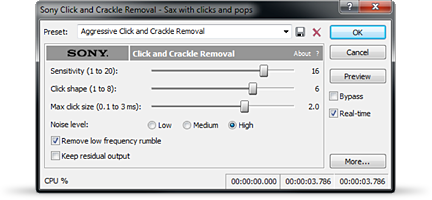 ---
Clipped Peak Restoration™
Clipped Peak Restoration can make the difference between being forced to throw away a valuable recorded take, or having a virtually undistorted recording. This plug-in reverses the damage done due to clipping by reducing the negative impact of harsh distortion. Clipped Peak Restoration rounds the tops of clipped peaks and applies peak limiting to the area immediately surrounding the audio clip. Non-clipped audio is not affected.

Features
Reconstruction of clipped peaks
Peak limiting functionality
Automatic or manual headroom management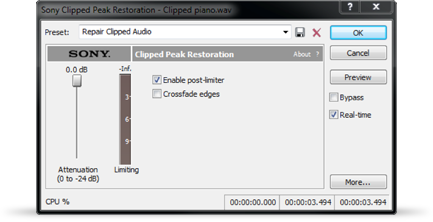 ---
Audio Restoration™
Audio Restoration is designed to remove both impulsive (pops and clicks) and broadband surface noise from old recordings. An advanced filtering technique detects and automatically removes the very fast transients generated by typical wear on the surface of a record. Then, a method similar to the Noise Reduction function is used to minimize the audibility of broadband surface noise.

Features
Flexible sensitivity controls
Threshold controls suitable for a wide range of vinyl RPMs
May be used in conjunction with the Noise Reduction plug-in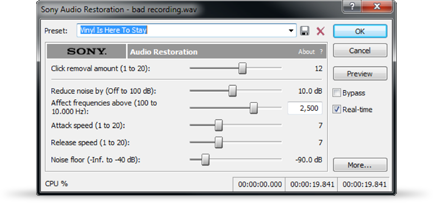 Noise Reduction system requirements:
Microsoft® Windows® 2000 SP4, Microsoft® Windows® XP, Windows® 7, Windows® 8, or Windows® 8.1 operating system
200 MHz processor (400 MHz recommended)
5 MB hard-disk space for program installation
32 MB RAM
Windows-compatible sound card
CD-ROM drive (for installation from a CD only)
Microsoft DirectX® 9.0c or later
Internet Explorer 5.1 or later
DirectX-compatible 5.1 or later