Soft Synths: The ACID Pro Secret Ingredient
by Craig Anderton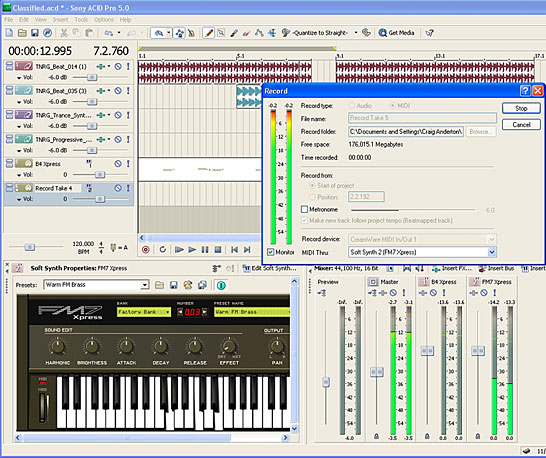 ACID® Pro software is legendary for its ability to manipulate audio data, but for extreme key/tempo changes with no fidelity tradeoff, MIDI still rules. ACID Pro 4 introduced MIDI recording, editing, and playback; ACID Pro 5 built on that by including three "software synthesizers" (FM Xpress, B4 Xpress, and Pro-53 Xpress) that do cool MIDI tricks right out of the box.
If you missed the MIDI revolution in the early '80s and cut your teeth on digital audio, software synths can be a little confusing. But we'll take care of that…
SYNTH SETUP
A soft synth combines both MIDI and audio elements: You trigger the synth's notes via MIDI, but its output appears as audio over a mixer channel.
To provide MIDI data for the synth, patch your keyboard's MIDI out to your computer interface's MIDI in (or, the keyboard might connect to the computer via USB). Call up ACID Preferences. Select the MIDI tab, then enable the MIDI input your keyboard feeds.
Next, click on the "Insert Soft Synth" button toward the right of the mixer. A list of installed soft synths appears, which should at least include those you installed with ACID Pro 5. Highlight the one you want to use, then click on OK.
Play the keyboard, and you'll hear the synth in all its glory. Its mixer channel will show activity, as will the master bus.
RECORDING YOUR PART
Okay, let's immortalize your playing. Click on the transport's Record button, then in the Record window, choose Record Type "MIDI." If it's grayed out, there's no valid MIDI input — better revisit Preferences.
The record window's "MIDI Thru" field is very handy. Its drop-down menu shows all synths currently inserted in the project, so just choose the synth you want to play through, then click on the Record button.
EDIT TIME
After recording, click on Stop and a MIDI track appears that looks like a miniature representation of a piano roll…which is basically what it is.
To edit a clip's start offset or pitch shift, right-click on the clip and select Properties. For more detailed, graphical editing, double-click on the track's track number to see a large piano roll view. Another tab, List Editor, gets even more detailed by providing a list of editable numeric values for all MIDI events.
Editing is a rather deep subject, but the online help can bring you up to speed. Because MIDI lets you edit all aspects of a note — pitch, dynamics, length, rhythmic accuracy, and more — you can really hone a part down to the finest detail.
So give the synths that came with ACID Pro 5 some exercise; they can add a lot to a project. Besides, it's cool to have the sound of something like vintage organ roaring out of your speakers — with nary an instrument in sight.
Craig Anderton is a musician, freelance writer, and music industry consultant who has written more than 20 books on music technology, and given seminars on technology and the arts in 37 states and 10 countries. He also guests with the German electronic group Air Liquide, and plays guitar for Rei$$dorf Force. Check out his Web site at www.craiganderton.com.