Sony Creative Software at NAB 2008
The NAB Show™ 2008 wrapped up on April 17 in sunny Las Vegas, NV. It was a pleasure meeting so many loyal customers and learning about how our software helps you create, edit, and deliver your best work.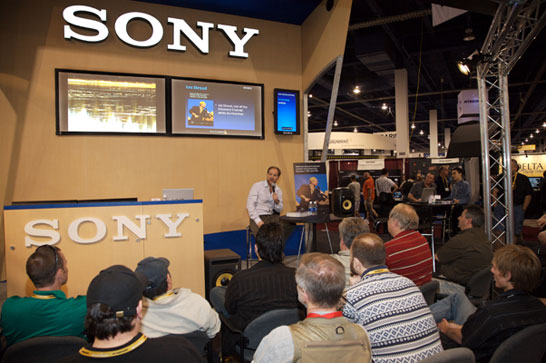 Sony Creative Software made several announcements at the show. The big message was Blu-ray Disc™ authoring. DVD Architect Pro 5 software will have Blu-ray authoring and burning functionality when it is released in June. With DVD Architect 5 software, you will be able to author both a standard definition DVD or a high-definition Blu-ray Disc complete with full motion buttons, motion menus, scene selection menus, subtitles and alternate video and audio tracks. The DVD Architect Pro 5 update will be free to registered Vegas Pro 8 and DVD Architect 4.5 users.
Blu-print™ 4.3 enterprise software was announced, which will help simplify the complexity of producing fully interactive Blu-ray discs at professional studios or authoring houses. Available in May, Blu-print 4.3 will feature integration with Ensequence on-Q Create for Blu-ray Java, which enables Blu-ray Disc developers to create and distribute Java-based interactive experiences to viewers worldwide.
Also announced at the show was a new partnership between StudioNow and Sony Creative Software. StudioNow (www.studionow.com) is the premier online source for creating professional-quality video content at affordable prices. The partnership will provide Vegas Pro users premium access to the StudioNow Network and Marketplace for showcasing their reels and sourcing video projects.

The "Full HD — Over the Top" Vegas user group event on Monday night was a magnificent success. We had over 1,800 people register for this year's event—we were definitely at capacity. Vegas Pro users, guests, and press filled every available chair while the rest of the standing-room-only crowd gathered around the perimeter to hear technology announcements and presentations by notable professionals from Sony, AMD, and VASST. Keynote presenter Les Stroud, host and creator of Discovery Channel's popular series "Survivorman," shared experiences and footage from his show and discussed how Sony hardware and Vegas Pro 8 software are making the creation and editing of his upcoming shows more efficient and streamlined. Les also spent some time in the Sony Creative Software booth meeting show attendees and signing autographs.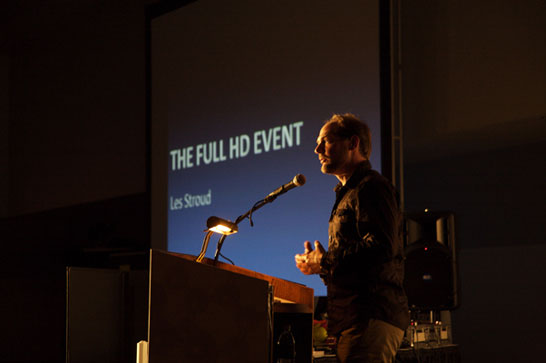 On the show floor, Sony Creative Software and several of our partners such as NewBlue, VASST, Ensequence and iZoptope gave presentations throughout the day to highlight product integration initiatives. Presentation topics included "Sony DVD Architect with Blu-ray Disc Authoring," "Musical Score and Audio Production with Sony Cinescore and Sound Forge," and "Creating Interactivity for Blu-ray with Ensequence onQ Create," among others.
There were also two guest presenters in the Sony Creative Software booth: Jason Gleed, an award-winning songwriter and producer, and filmmaker Thiago Da Costa. Jason presented on how he uses ACID Pro software to record, compose, and produce his music for television and films. His credits include Alvin and the Chipmunks, American Pie Beta house, Speed Racer, and High School Musical 3.
Thiago Da Costa's presentation was entitled "Making the Switch to Vegas Pro." He discussed why he switched from Final Cut to Vegas Pro software for his film editing projects. Thiago's film Before Take Off earned him six awards including Best Emerging Filmmaker at the San Antonio CineFestival.

Sony Creative Software also gave demonstrations of Vegas Pro 8.1, the 64-bit version of Vegas. As a result of these demos, Vegas Pro 8.1 was given the STAR Award from TV Technology magazine. The STAR Award is designed to celebrate and showcase the outstanding technological innovations available to the broadcast industry. This year's NAB Show was an overwhelming success. We hope to see everyone again next year.