Redesigned recording workflow
Sound Forge™ Pro 11 features a completely redesigned recording interface that keeps you anchored in the workspace at all times while you shape and monitor incoming audio, arm and record takes, review your work, and prepare for the next pass. More about the new recording interface in Sound Forge Pro 11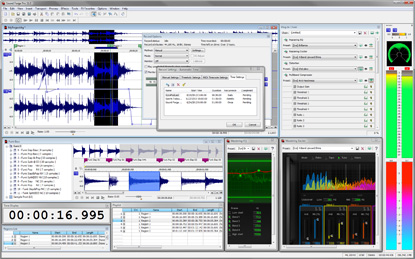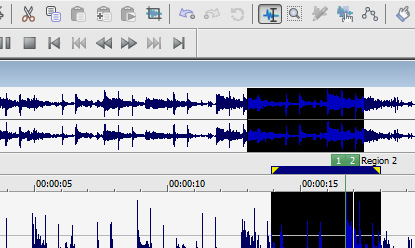 Input bus effects
Create a vibe for your talent by sweetening your source signal with plug-in effects.
Automatic time-based recording
Schedule recordings on a recurring basis, with your choice of start time, duration, and end time.
Multichannel audio recording
With Sound Forge Pro 11 software, you can record up to 32 channels of high resolution audio via discrete inputs.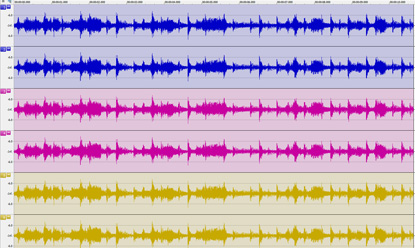 Editing and workflow
Sound Forge™ Pro 11 is a comprehensive multichannel audio recording and editing environment that can be dialed in to serve as the ideal software interface for any task. Record, edit, process, master, and organize audio assets with an unbeatable array of options that have enjoyed a continuous evolution ever since the birth of recording on the PC.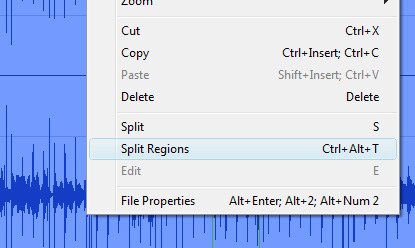 Event mode improvements
Open sound files and use the Event Tool to split waveforms into discrete sections that can be moved and manipulated anywhere on the timeline. Events can be trimmed, slipped, faded/crossfaded, copied, and more. Event-based editing is ideal for assembling takes and creating audio CD layouts. New in our latest edition: convert regions to events, lock event markers, region markers, and envelope points to events, and automatically ripple successive events forward in time while editing.
New!

Seamless Interoperability with SpectraLayers Pro

Transfer audio data between Sound Forge Pro and SpectraLayers Pro and experience the thrill of working freely across the world's premiere waveform and spectral editing applications. Open a large file in Sound Forge Pro and transfer selections of any size to SpectraLayers Pro for fast, precise editing, then bring the result back to the source file in Sound Forge Pro–automatically and with sample-accurate precision. Send multiple files to SpectraLayers Pro for deep layering, remixing, and sound design work, and then return your finished products back to Sound Forge Pro 11 for further editing, processing, and finalization.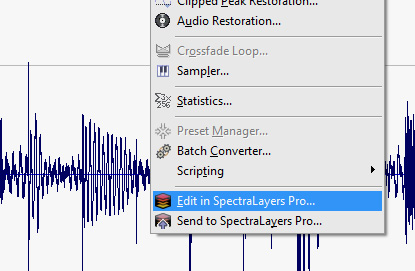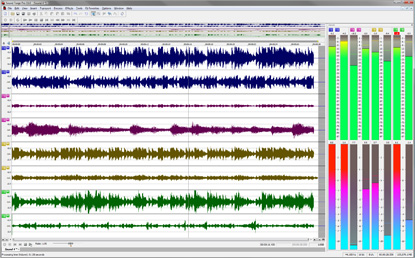 Multichannel file editing and processing
Open, edit, and save multichannel audio data from XDCAM™, field recorders, and surround mixes, with sample accurate precision.
ACID™ loop creation tools
Create your own loops for use in ACID software. Use grid lines to visually divide audio selections into equal parts based on time signature. Refine your loops in the Loop Tuner, and then embed basic ACIDization metadata to get a head start on making your own perfectly ACIDized loops and samples.
Interface customization
The Sound Forge Pro 11 user interface is fully customizable. Waveform and envelope colors, markers, and default window heights can be customized to fit your workflow.
Customizable layouts
Design Sound Forge Pro 11 editing environments to maximize your productivity. Create and save multiple interface layout configurations for single- and dual-monitor systems. Easily recall a window layout for specific editing tasks including audio editing, CD layout, multichannel file editing, and more.
Multitask background rendering
Work on one file while Sound Forge Pro 11 software processes another in the background.
Tools and effects
Sound Forge™ Pro 11 is the editor's choice for shaping audio in an infinite variety of ways. Our latest edition comes prepared to deliver broadcast ready, master quality finished products right out of the gate, using its own popular built-in signal and effects processing tools as well as premier contributions from our stable of high-end DSP developers.
Native DSP
Sound Forge Pro 11 includes a comprehensive selection of native signal and effects processes including normalization, Wave Hammer compression and limiting, graphic and multiband dynamics, noise gating, graphic/paragraphic/parametric equalization, envelope generation, phasing, flanging and chorus, reverb, tremolo and vibrato, distortion, pitch modifiers, the amazing Accoustic Mirror convolution reverb, the Gapper/Snipper effects processor, and more.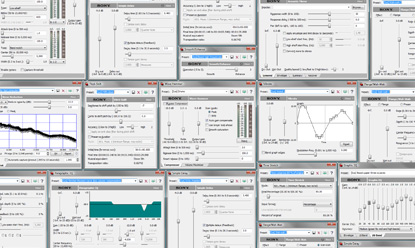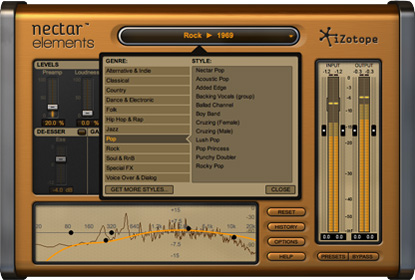 Comprehensive iZotope DSP, now expanded in Sound Forge Pro 11
iZotope is one of the most exciting, forward thinking, and user friendly audio software companies on the planet. While expanding its horizons in all directions–from audio repair technology to effects processing algorithms to musical instrument development and beyond–iZotope has again deepened its collaboration with Sony Creative Software to add even more creative punch to the Sound Forge Pro line. Through the addition of the Mastering and Repair Suite and the inclusion of Nectar Elements for vocal processing magic, iZotope has once more raised the bar on what's possible with one-stop audio editing solutions. More about the included iZotope tools.
New plug-in chain interface
Sound Forge Pro 11 features a new floating Plug-in Chain window that provides a significantly refined workspace for conducting non-destructive signal and effects processing operations. Dock the chain and enjoy direct access to every component of the processing environment. Easily manage plug-in order, presets, interface controls, envelope automation and bypass controls, and retain unique plug-in configurations for every open data window.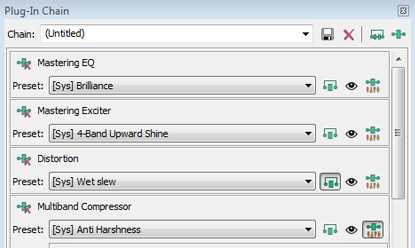 CALM-targeted metering
Win the volume war with new metering options in Sound Forge Pro 11.
Integrated disc-at-once CD burning
Sound Forge Pro 11 includes fully integrated DAO CD mastering. Generate Red Book compliant masters for duplication. Perform PQ code editing, add CD text and metadata, and prepare high resolution audio tracks with iZotope resampling technology.
Gracenote® CD album identification
Sound Forge Pro 11 software supports the Gracenote MusicID Media Recognition Serivce. Extract or submit information including track, title, artist and more.
Channel converter for multichannel files
The Sound Forge Pro 11 Channel Converter tool supports multichannel formats for easy downmixing of multichannel files to stereo or mono.
VST effect support
Sound Forge Pro 11 supports VST plug-ins and plug-in parameter automation.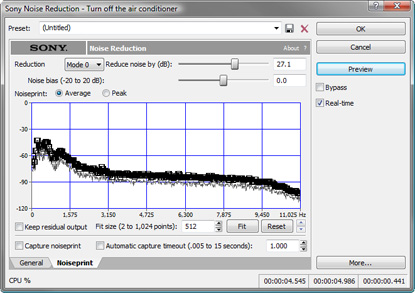 Noise Reduction: advanced audio restoration and repair options
Sound Forge Pro 11 offers transparent access to powerful, open-ended restore and repair options. Our native Noise Reduction 2 collection of plug-ins (Noise Reduction, Audio Restoration, Click and Crackle Removal, and Clipped Peak Restoration) remains on deck as standard equipment for ideal solutions to common problems. In addition, new tools from iZotope as well as exclusive, seamless interoperability with our own SpectraLayers Pro advanced spectral editing application, make this edition of Sound Forge Pro the absolute ultimate in repair and restore technology, in terms of options, sheer power, convenience, and workflow.
Zplane™ élastique timestretch
élastique makes time-stretching artifacts obsolete. Based on state-of-the-art psychoacoustic models and signal processing theory, the result is stable timing, interchannel phase coherence, and sample-accurate stretching. Achieve formant-preserving pitch shifting that avoids the well-known pitfalls that can occur when pitching up or down. Choose from various stretching methods that are tailored to your source audio, and adjust settings while previewing.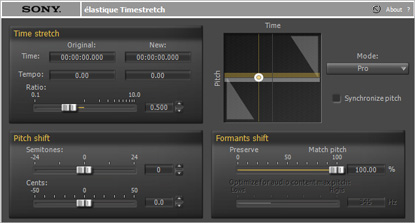 Phase scope and mono-compatibility metering
Use the Phase Scope in Sound Forge Pro 11 to find phase cancellation among the channels in an audio file. Meter types include Lissajous - XY Plot, Lissajous - Rotated, Polar - Linear Plot, and Polar - Circular Plot. The mono compatibility meter helps detect correlations or differences between the channels of a file that can cause phase cancellation when downmixing to mono.
Multichannel-capable spectrum analysis
View frequencies and overtones of different channels within an audio file. The Spectrum Analysis tool shows multiple graphs depending on how many channels are selected. Observe fundamental frequencies and overtones in your recordings. Monitor audio and effects changes, take multiple snapshots, and overlay views to compare and match frequencies. Toolbar buttons include choices for FFT size and normal or sonogram view.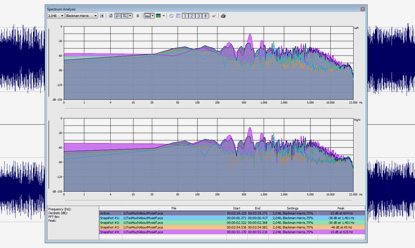 Application scripting
Use scripting to automate common tasks and create customized features. Application scripting tools include the Script Editor window and toolbar. Additionally, Sound Forge Pro 11 software includes scripts for commonly used tasks. Scripting languages supported are C#, JScript, and VBScript.
Batch conversion
With Batch Conversion, you can apply the same effects and processes to multiple files, saving hours of editing time. Convert digital audio files into different formats including MP3, FLAC, AIF, and more. Simply add a group of files to the Batch Conversion interface, select an effect or process, and run the script. You can also save and recall your most frequently used batch scripts.
Clipped peak detection and marking
Sound Forge Pro 11 software automatically scans files and marks clipped peaks. Scan results are reflected in the Regions List for immediate identification.
Noise generators
White, pink, and brown noise generators are invaluable for audio testing, acoustic analysis, and taking measurements, and they're also useful as sound design tools.
Acoustic Mirror™ software plug-in
Apply real physical space and signal path environments to your audio, including bridges, churches, concert halls, modern and classic microphones, and more.
Resources
The Top Audio Editors
"Audio post-production, mastering, sampling, restoration: it can comfortably cover all such applications and is relatively easy to use with its clear and plain interface." Red Led, Audiofanzine
Read the review
Sound Forge Pro 11 Adds Useful Tools
"Sound Forge Pro 11 offers a multitude of processors and an infinite number of choices to achieve the sound that you are looking for." Dave Plotkin, Radio World
Read the review