Previous Library
Next Library


Tony Franklin: Not Just Another Pretty Bass
1051 (778 MB) original, royalty-free WAV files.

Samples
Tony Franklin is the 'Fretless Monster.' His bass playing is all about chops, tone, and taste, in proportions that sum to the kind of sound that people like Jimmy Page and bands like Whitesnake have used to full effect. Tony Franklin: Not Just Another Pretty Bass is a double-disc, 24-bit collection of hundreds of bass loops that comprise fifteen unique song structure themes, all performed by Tony on his customized Fender® Fretless Precision Bass®, the same instrument he used with Page in The Firm, onstage in Whitesnake, and in countless other sonic exploits.

In Tony's able hands, this instrument gives up the sound and the vibe that makes the P Bass® what it is: the ideal, essential, and inimitable sound of rock — yesterday, today, and tomorrow. The fretless aspect of Tony's style makes his playing unique in the world of hard rock celebrities, and the slippery lines of round wound steel on smooth ebony contain the curves of the distinctive Franklin signature.

Each of the fifteen flexible electric bass themes contained in this collection offer up all the elements of great rock tracks, from foundation to flash to finish. Enjoy this gritty (and sometimes pretty) collection in ACID® software, and every other hardware and software platform that supports the .wav file format.
Similar Libraries
These libraries have been hand chosen to complement Tony Franklin: Not Just Another Pretty Bass.

An Artist Integrated showcase of drum loops from former Sugarcubes drummer Siggi Baldursson, compiled by Fretless Monster Tony Franklin.
US $39.95

Add to Cart

Samples


Doctor Fink is back with another 2CD, 24-bit Premium Collection of signature keyboard magic, but this time he's jamming along with the Quartet!
US $69.95

Add to Cart

Samples

Unlock the full potential of the Artist Integrated Quartet with Parthenon Huxley's 24-bit, double-disc opus of sublime rock/pop guitar.
US $69.95

Add to Cart

Samples
Customer Reviews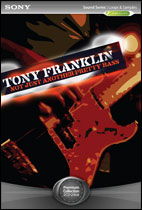 Tony Franklin: Not Just Another Pretty Bass
Tony Franklin: Not Just Another Pretty Bass
2
2
This Guy Jams!
Someone wrote a bad review on this guy, but I don't know what he was talking about? Franklin's sounds are so unique and cool. I try to find a way to include his bass lines in my stuff all the time. Good Times! Good Sounds! Hey, buy this one, especially if you're an amateur like me. It's really cool to mix DNA Bass and Rudy Sarzo with Franklin.
September 21, 2012
Distorted
The word gritty is used but what they are trying to convey is that the bass is more than a bit distorted. It is rock bass and rock bass with a singular slant. There a few clean samples, but that is not his forte. For that reason, I will not be using this collection as much as I had anticipated. Also, the tracks are all mono which is a bit old school for bass. I did like the fact that recording are fairly raw, so that I can tweak them as I want with compression, reverb, etc like I recorded it myself.
January 24, 2012