Catalyst Edit™


In video, focus is critical. Catalyst Edit focuses on 4K, Sony RAW, and HD video editing so you can focus on your creativity. Deliver your most stunning video productions in all the glory you captured through your lens.
You dreamed it. You shot it. Now bring it to life.
Your vision,
delivered.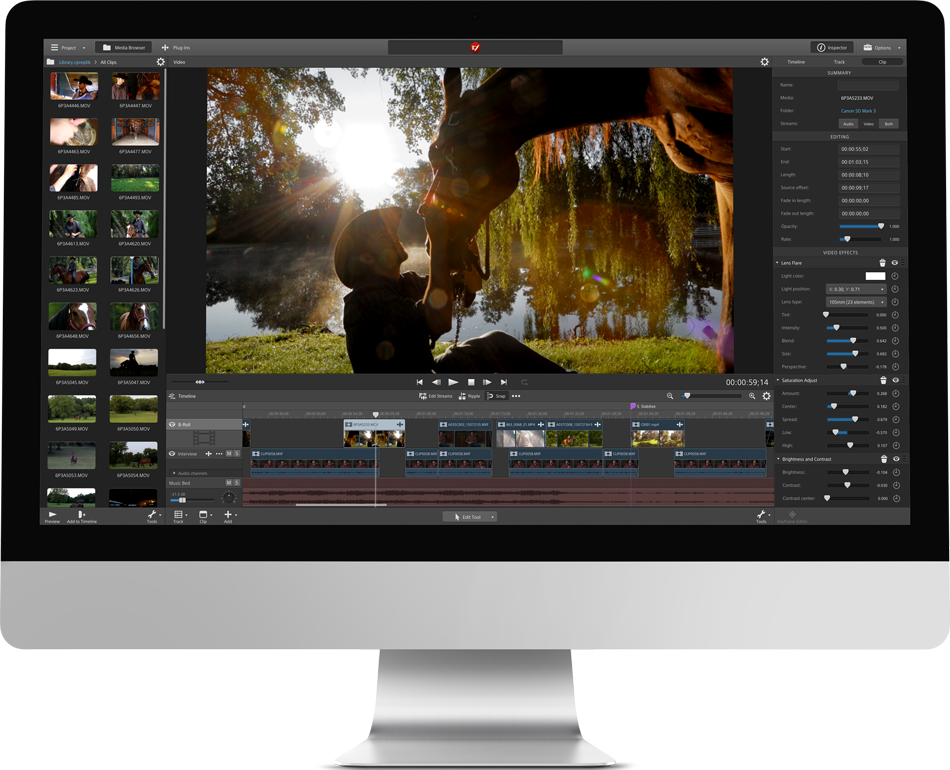 Your super-detailed 4K footage is amazing. Your wide-color-gamut, high-dynamic-range colors are stunning. Now you just need to put it together so you can show the world. The timeline cutting tools in Catalyst Edit help you do just that, empowering you to make your video edit look as great as the content you shot.
You captured the detail. Now craft your story.
As 4K acquisition technology advances, cameras are able to capture the detail of your scene with stunning clarity never before possible. Sony RAW, X-OCN, and XAVC embrace the wide color gamut and high dynamic range your camera captures and lay it right there for you to use. Catalyst Edit supports those formats natively so you can get right to editing without spending precious time transcoding first.



OpenFX plug-ins.Make your video shine with filters and effects.
Even the best footage sometimes needs a little something extra to make just the right impact. Robust industry-standard OpenFX support, including support for multi-input effects, gives you the power to adjust and enhance your video for the look you want. Use built-in filters, effects, generators, and transitions, or plug your third-party filters into your project and use them with seamless integration. Whether it's subtle correction or drastic artistic flare that you're after, OpenFX support makes it all possible.
Catalyst Production Suite integration makes your job easier.
Catalyst Prepare is the fast, simple, reliable path from camera to post. With Catalyst Edit, pick up right where you left off in Catalyst Prepare without dropping a frame or missing a beat. Together as the Catalyst Production Suite, these programs create a flowing integration that provides you with a fast, seamless workflow.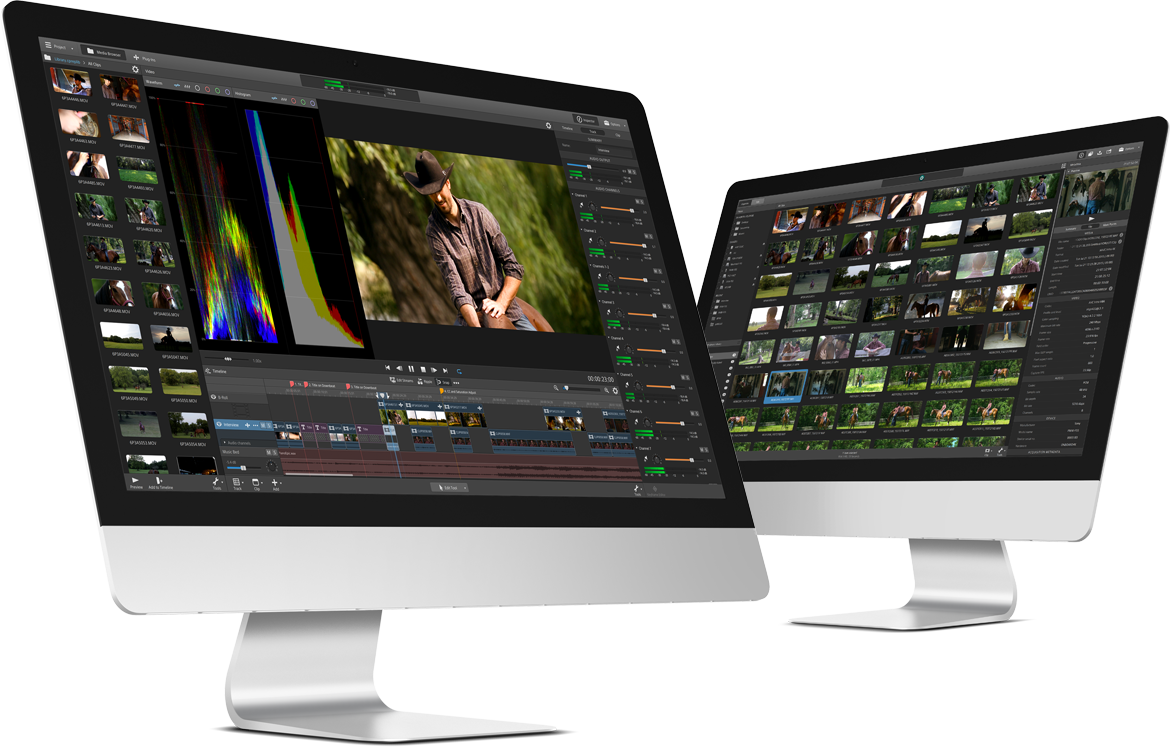 Mac OS X and Windows
You use your computer to make great videos, and you run whatever operating system it takes to get the job done. You need powerful editing capabilities whether you run Mac OS X or Windows, and if you use one platform at the studio and the other at the home office, you probably need to work on your projects on both systems. That's why Catalyst Prepare and Catalyst Edit look, feel, and function exactly the same on both platforms.
File format support
Sony RAW, X-OCN, XAVC Long, XAVC Intra, XAVC HS, XAVC S, XDCAM 422, XDCAM EX, DNxHD, ProRes (read only on Windows; read/export on macOS), HDCAM SR (SStP), NXCAM, AVCHD, AVC H.264/MPEG-4, HDV, DV, JPEG, PNG, WAV, and MP3.
Device support
Catalyst Production Suite supports a variety of cameras, Professional Disc players, and card readers, as well as BlackMagic Design professional video output devices including UltraStudio, DeckLink, and Intensity PRO.

Want to learn even more about Catalyst Edit?
Catalyst Edit system requirements
A 64-bit operating system: Microsoft® Windows 10 or Windows 11; macOS 10.15 (Catalina), 11 (Big Sur)*, or 12 (Monterey)*
*Intel processors only.
2 GHz multicore processor

An 8-core processor is recommended for 4K media
An Ivy Bridge Core i7 with Quick Sync Video or Xeon E5 processor is recommended for XAVC S media
A Kaby Lake Core i7 processor with Quick Sync Video is recommended for 4:2:0 XAVC HS media and required for 8k media
An Ice Lake Core i7 processor with Quick Sync Video is recommended for 4:2:2 XAVC HS media and required for 8k media

500 MB hard-disk space for program installation
Solid-state disk (SSD) or high-speed RAID for 4K media
4 GB RAM (8 GB recommended; 16 GB recommended for 4K media)

The XAVC Long 422 3840x2160 200 Mbps (Sony) transcoding presets require 16 GB or more RAM. If you're using a dedicated GPU, the presets also require 4 GB or more GPU memory.

NVIDIA, AMD/ATI, or Intel GPU with support for OpenCL 1.1 or later with at least 1024 MB of memory or a CPU with SSE 4.2 or higher

OpenGL 2.1 is recommended for optimum performance
OpenGL 4.1 is required for video stabilization
2 GB GPU memory is recommended for 4K preview or HD rendering
6 GB of GPU memory is recommended for decoding XAVC S or XAVC HS media, and we recommend using the latest GPU driver version from NVIDIA, AMD/ATI, or Intel. macOS provides software decoding of XAVC S or XAVC HS media.
6 GB GPU memory is recommended for 4K rendering
8 GB GPU memory is recommended for 8K rendering or 4K video stabilization



You must provide registration information to Sony Creative Software Inc., a US company, in order to activate the software. Product requires online registration.