Features
Note: Features and UI appearance vary depending on the device type and OS.
Mirroring
Control
Download*
* Snapshot images of Vision Exchange can be downloaded to user's device.
Required Windows PC Specification
OS: Windows 8.1/10 (64-bit)
.NET Framework 4.5 or 4.6 must be installed
Recommended Windows PC Hardware Specification
System Memory: 4 GB or over
CPU: Intel® Core™ i5 or Higher (6th generation or higher, 2 GHz or over, Number of Cores: 2 or over)
Wi-Fi: IEEE 802.11ac or IEEE 802.11n supported
macOS Verified OS Version
Catalina
Big Sur
Monterey
Android Verified Hardware (OS Version)
Galaxy S8 (9)
Galaxy S10 (10)
Galaxy S20 (12)
Galaxy Tab S4 10.5" (10)
Huawei MediaPad M5 Pro (8)
Google Pixel 2 (11)
Google Pixel 5a (12)
Xperia-1 (11)
iOS Verified Hardware (OS Version)
iPhone X
iPhone XS Max
iPhone 11
iPhone 12 Mini
iPhone 13
iPad
iPad mini 4
iPad Pro 12.9" (3rd generation)
Note:
Some of the Verified Hardware may have functional limitation.
Please see "Precautions and restriction" section below for the details.
How to use Vision Exchange App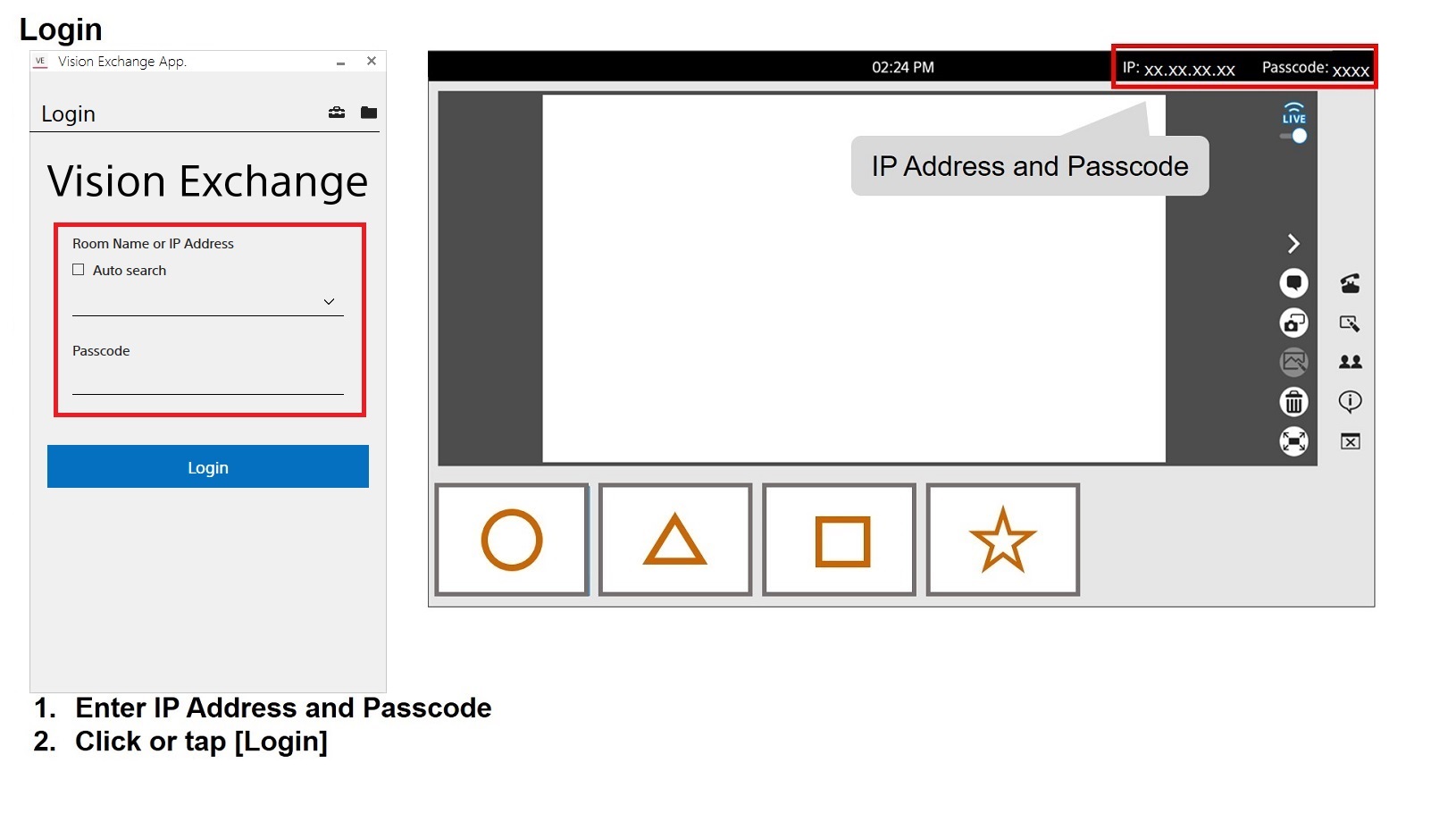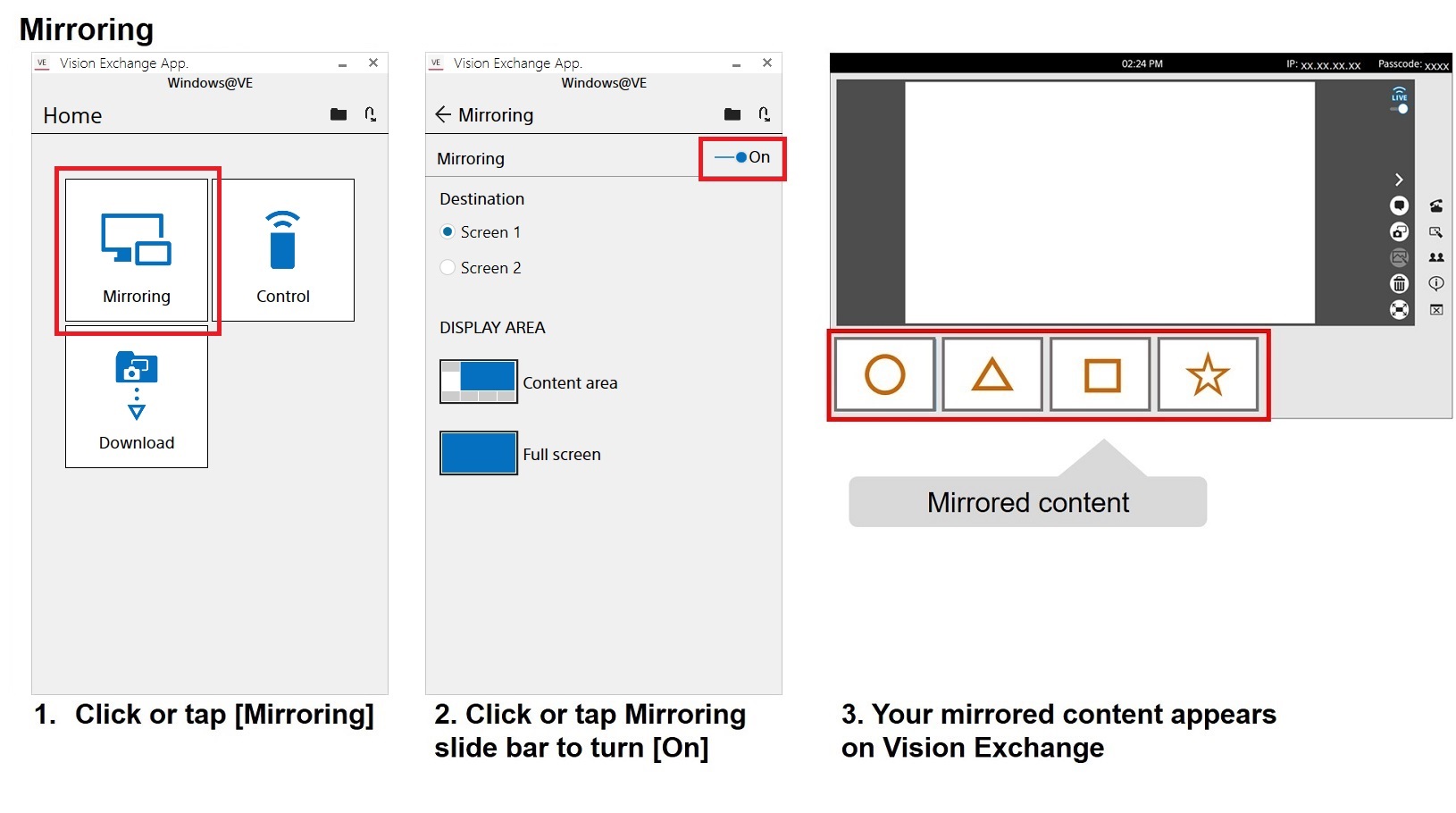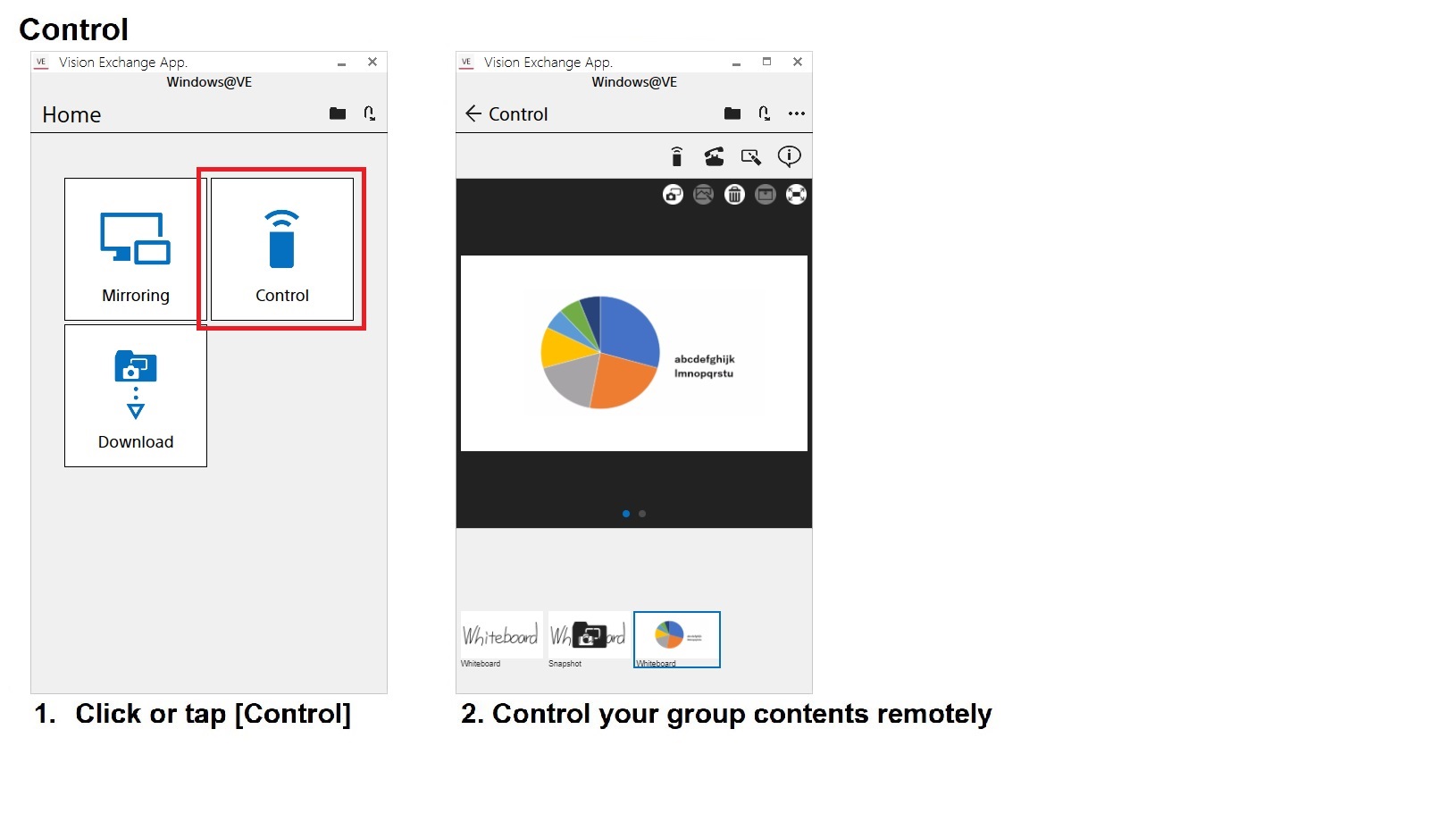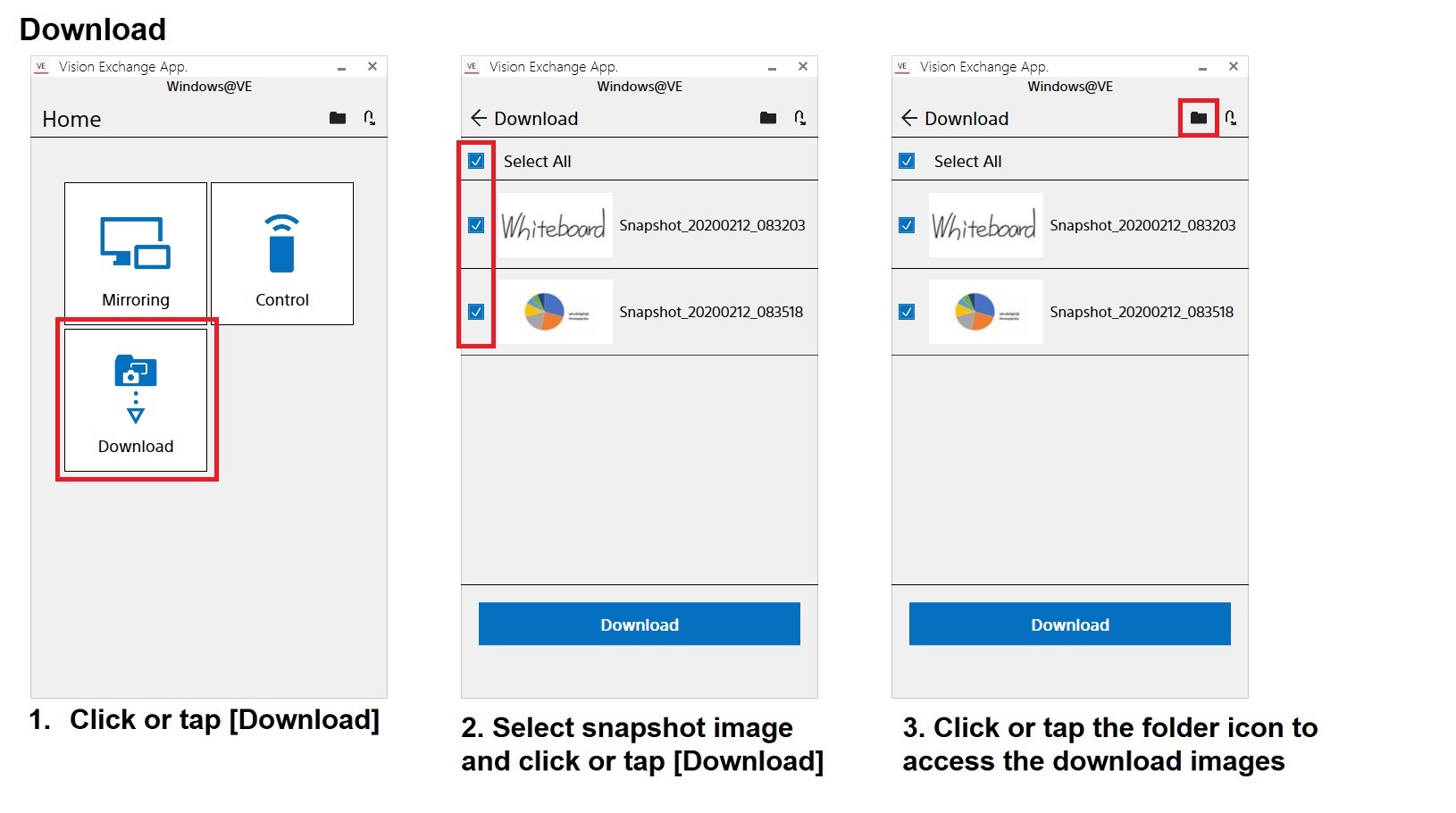 Precautions and restrictions
The application requires Vision Exchange v1.4.2 or later.
Vision Exchange App does not provide backward-compatibility with lower level Vision Exchange versions.
Windows
Some features on the control page may not be displayed when you have logged in to the other Vision Exchange unit previously.
The audio may not be mirrored to Vision Exchange when Microsoft Surface once stops the sound/audio while mirroring, even when it resumes the sound.
If you set the playback device property of the built-in speaker on Microsoft Surface to "16 bit, 44100 Hz", noise will appear in the sound.
When using Microsoft Surface in full screen mode, the mirrored image of the specific apps (e.g. 'Movies & TV') may not rotate.
macOS
macOS 10.15, 11, 12 are supported.
In rare case, the contents may not be displayed at whiteboard editing mode.
Android
Turn off "Power Saving Mode" on your Android device or choose not to optimize in the exemption confirmation dialog of battery optimization for Android V6 or later.
This app requires storage access authority.
Audio mirroring is not supported.
The mirroring image corresponds to the rotation behavior of each application. The mirrored image on the Vision Exchange screen does not rotate the video if applications do not support rotation.
• The following app's rotation is currently not supported. e.g. Camera app of Galaxy S8, Galaxy S10, Galaxy Tab S4, Xperia XA2, Huawei MediaPad M3 and Huawei MediaPad M5 Pro
iOS
iOS 15 is supported
Audio may not be transmitted during mirroring in case of iPhone X.
When you use YouTube app repeatedly after using YouTube app for a while, the audio may not be transmitted during mirroring.
Google Play and the Google Play logo are trademarks of Google Inc.