10% off and Free Training DVDs*
This month get 10% off your choice of Sound Forge Pro, Vegas Pro, or ACID Pro. With your purchase we'll include a copy of the Seminar Series training DVDs. You'll also get free UPS Ground shipping in the continental US!
Shop Now for 10% off & freebies!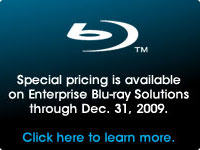 Enterprise Blu-ray Authoring
Blu-print, Blu-code encoder, and on-Q Create for Blu-ray Java are the most powerful applications available for Blu-ray disk production. For a limited time* we're offering three FREE Blu-ray titles to qualified trials. Learn More
*Offers valid November 9 - December 31, 2009 when purchasing directly from Sony Creative Software via links in this email.

Reviewing Sound Forge Pro 10 for Studio Monthly Justin Lassen writes, "In my opinion, the best just keeps getting better, and this release proves it. This is truly hot software, and you'll thank yourself for grabbing a copy of it." Click here for full review



Eva Natal Remix Contest
Infected Mushroom Remix Contest
Yakoozai Remix Contest
See past contest winners


InterBEE 2009, November 18-20, 2009, Makuhari Messe, Sony booth: 8212, Hook Up booth: 4206

The New Economics of HD Online Expo, November 19, 2009

SITEX, November 26-29, 2009, Singapore Expo, A-One Multimedia's booth: Hall 5, 5H33

RED Post Production Seminar, December 5, 2009



For technical support or product questions visit our knowledgebase.

Sony Creative Software
8215 Greenway Blvd. Suite 400
Middleton, WI 53562
Customer Service and Sales:
1.800.577.6642 or 608.203.7620

We welcome your comments and suggestions on this monthly newsletter. Email the editor.


Update your email address, control email preferences, lookup serial numbers, download updates, and more in our "My Account" area. Register or Login

Back issues of Sony Creative Software News are archived on our website. Click here to view archives




Cinescore and Themes for Cinescore provide infinite musical possibilities for video scoring. It's conceivable that with just a copy of Cinescore and a single theme pack, you'll never run out of original music. But with multiple theme packs? That's infinity times sixteen. Limitless.

Cinescore continues to create exciting soundtracks worldwide, but it's time to move forward. We're currently developing next generation music creation technology and the current version of Cinescore will be the last.

To help you take advantage of limitless musical possibilities, we're offering 60% off of Cinescore software and Cinescore Theme Packs (box or download). Infinite soundtracking opportunities at incredible savings.

Save 60% on Cinescore and Cinescore Themes*


Through December 31, 2009. Discounted price displayed in shopping cart.








SOUND FORGE PRO 10 – LIVE!
November 11, 2009 at 11:00am CST

Join us for a live web event covering the new Sound Forge Pro 10. This free broadcast will demonstrate how Sound Forge Pro 10 can make your editing job easier and more efficient. Chat directly with the people who have made Sound Forge Pro the most highly-regarded editing application in history – we'll answer your questions live!

Learn more and register here






Personalize your iPhone with custom ringtones. 1,000 Ringtones for iPhone has the perfect sound for every caller in your address book. So simple—just load the disc, pick your ringtone, and synch to your iPhone—no downloading or fees! From Hollywood sound effects to great music clips to a wide variety of spoken ringtones, you're sure to find just the right sounds to fit your style. 1,000 Ringtones for your iPhone—there's no better, cheaper, or faster way to get great ringtones on your iPhone.

Click here for more information and samples






It's the can-do Hollywood story of the year: independent film garners a cult following, then breaks through to become the #1 movie in America. Filmmaker Oren Peli's editing platform: Vegas Pro.

Read more about the Paranormal Activity production




From our sponsor:

Convology Impulse Library from ImpulseRecord.com now available

A tremendous collection of over 950 one-of-a-kind FX / SFX encompassing hundreds of the most unique real spaces ever captured! Film, Industrial, Commercial and Songwriters alike will fully realize the power of this incredible new pallet of sounds, created with some of the most exotic impulse responses ever captured! With new sounds, FX and SFX to work with, your productions will explode with creativity not currently available anywhere else!

Free samples | Purchase Now




Are you running Windows 7? Concerned about Sound Forge Pro 10 performance? Worry no more, because the Sound Forge 10a update makes the application Windows 7 certified! Run the industry's leading audio-editing application on the latest OS.

Learn more about Sound Forge Pro 10.