VEGAS PRO 10 HAS ARRIVED!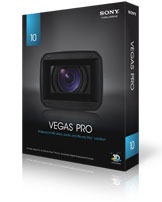 Now available! Vegas Pro 10 software, the newest version of the award-winning video editing application from Sony, is here! This latest version of Vegas Pro NLE software brings the third dimension to video production and lets you edit and produce stereoscopic 3D video in leading formats such as side-by-side, line alternate, or anaglyphic.

Through November 30, current users of Vegas Pro can upgrade from only US $139.95!

What else is new in Vegas Pro 10 software? Here are some of the new features and enhancements:
Leading edge technology, including support for stereoscopic 3D, 4K, and GPU-accelerated AVC encoding
Improved closed captioning
Improved multicam functionality
Performance improvements for DSLR video
Enhanced plug-in support
Customizable UI and flexible workflow environment
Track grouping
Audio enhancements
Support for industry-leading formats, from tape to file-based to DVD and Blu-ray Disc™
And many others!

Vegas Pro has an intuitive interface that makes it easy to learn and use. Its professional effects and flexible workflow let you produce and create the way you want; its ability to ingest, edit and deliver content across varied formats means you'll always have ultimate control. Vegas Pro 10 also includes a full-featured integrated 5.1 digital audio workstation, providing maximum functionality for scoring, sound design, and multitrack recording.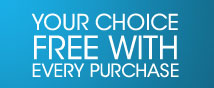 As an additional bonus, when you add Vegas Pro 10 to your shopping cart you can select from the following FREE downloads.

Vegas Pro 10 Seminar Series: Just released! Tips, tricks, and more for Vegas Pro 10. US $89.95 value.
GenArts particleIllusion: A six-month lease of this particle effects application. US $239.95 value.
Sony Pictures Sound Effects Series Vols. 1 - 5: Animals, explosions, vehicles, more. US $265.95 value.
Sony Pictures Sound Effects Series Vols. 6 - 10: Sci-fi, weapons, backgrounds, more. US $265.95 value.
Sound Forge Audio Studio 10: Edit and master professional-quality audio. US $64.95 value.