Previous Library
Next Library


Cinemascape: Soundtrack Construction Elements
214 (1293 MB) original, royalty-free WAV files.

Samples
Sony Creative Software applications and content offer comprehensive solutions that afford complete control over your own creative destiny. In our quest to provide superb, royalty-free soundtrack composition music to rival anything you've heard, we present Cinemascape: Soundtrack Construction Elements. This Premium Collection library contains a broad assortment of textures and melodies designed to effectively inform and interface with visual information. Cinemascape collection assets function on a continuum, from sparse, layerable elements, to fully-produced music segments that can be used as non-looping instant soundtrack material. Included with this two-disc set are two incredible, editable, ready-to-use ACID software Projects that blend 24-bit Cinemascape collection sounds with loops and samples from throughout the vast Sony Sound Series catalog. Extensive liner notes bring you closer to composer James Johnson's materials and creative vision, so that you coalesce with his unique approach to music and sound design aesthetics that much more effectively. Enjoy our Cinemascape: Soundtrack Construction Elements collection and every collection in our line, in ACID software, and on all other platforms that support the .wav file format.
Similar Libraries
These libraries have been hand chosen to complement Cinemascape: Soundtrack Construction Elements.

A collection of shifting, amorphous atmospheres, long drifting soundscapes, elegant piano passages, and textures.
US $39.95

Add to Cart

Samples


A 2 CD collection of long, sparse music segments designed for creating buildups, transitions, or even complete long form pieces of flowing, seamlessly composed music.
US $39.95

Add to Cart

Samples


A complete construction kit full of pure, sonorous sounds that reference common emotions and cinematic events in fresh, unique contexts.
US $39.95

Add to Cart

Samples
Customer Reviews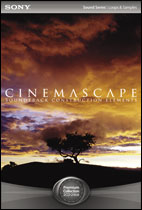 Cinemascape: Soundtrack Construction Elements
Cinemascape: Soundtrack Construction Elements
5
5
not worth the money
Not enough variety in the collection and I was highly disappointed to find out that a large portion of the samples were promotional samples for other libraries in the Sony collection. That's not what I paid for. Pretty disappointed on this purchase.
December 13, 2013
I love this.
It's a simple product and it's quite fun to use. I really like making soundtracks with it. :D
June 29, 2013
Great Product, Highly recommended
This is my most used loop set that I have. It is easier to adapt to a video produciton. Even using my vegas pro its easy to build a mix without having a full audio production software. All loops are very flat and easy to work around rather than having the need to reduce/amplfy/ EQ and settings
May 1, 2013
Good quality, but not emotionally broad.
Using this set of loops is very helpful. It mixes well with other loops and works to set the tone. However, a lot of the content is geared towards slow, mellow moments. There is nothing wrong with this, but it would have been nice to have had some tense music thrown in. One of the loops "Blurred Arp 03" is damaged and I had to manually fix it. Overall, it's good, if not without its quirks.
September 6, 2012
Soundtrack Productions
This title it's one of the many SONY's library sets I use to create productions for Radios and TVs: jingles, spots, backing tracks, soundtracks, etc. Unmatched 24-bit sound quality with tons of really useful tracks which is one of the most important features I look for in a sound/sample library. All the Premium Collection titles are a real treasure!
February 26, 2012