All of the Features of DoStudio Indie and more
DoStudio EX gives you all of the point-and-click ease of DoStudio Indie, plus full spec-level access to HDMV navigation commands, and support for every video and audio codec allowed in the Blu-ray Disc™ specification.
Designed for the ultimate Blu-ray Disc™ professional, DoStudio EX empowers you to create interactive pop-up menus, build and edit playlists, and control every action in your Blu-ray Disc™ project. Using the HDMV authoring style and the included IG Editor application, you'll be empowered to author using the full power of Blu-ray Disc™ specification scripting. From menu layout to replication ready cutting master files, DoStudio EX provides a high-level authoring environment perfectly suited to the advanced operator looking for complete control.
Maximize compatibility with PureHD® Multiplexing
DoStudio includes Corel PureHD Multiplexing, the technology behind many of Hollywood's top Blu-ray Disc™ releases, providing a complete, end-to-end, high definition solution for optimum quality, maximum playback performance, and compatibility across players.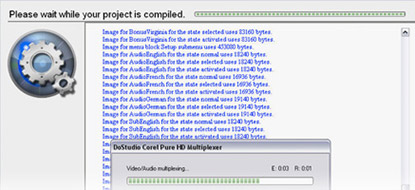 Add Picture-in-Picture effects
DoStudio supports in-mux secondary audio and video streams which can be used to create Picture-in-Picture effects that lay over the primary video stream.
HDMV Authoring
In addition to the point-and-click authoring ease of DoStudio Indie, DoStudio EX gives you spec-level control over Navigation Commands, Movie Objects and IG streams. With DoStudio EX, you can author a disc entirely in HDMV mode (no BD-J). Advantages of authoring in HDMV mode include:
Add the maximum number of titles available in the specification
Direct, non-abstracted, control over title behavior
Cell-level access to the Blu-ray Disc™ command set
Unlimited number of pop-up menu pages
Create replication-ready Blu-ray Disc™ masters
DoStudio EX includes everything you need to create replication-ready, AACS protected, BDCMF formatted discs with Managed Copy. With full support for both BD-25 (single-layer) and BD-50 (dual-layer) formatting, DoStudio BDCMF masters have been replicated at every major Blu-ray Disc™ replication facility in the world.
IGEditor from DVD Logic
With your purchase of DoStudio EX, you also receive the IGEditor from DVDLogic. The IGEditor is a stand-alone application designed to create menu graphics for DoStudio EX when authoring HDMV-only titles.
The IG editor allows you to easily add HDMV menu graphics to your titles with spec-level access to IG parameters and navigation commands. With IG Editor, you can:
Add HDMV menus over 2D and 3D video
Utilize the PSD naming convention
Output a PES stream to use in your DoStudio EX Project
Also Available
3D Authoring Module
Author full HD 3D Blu-ray Disc™ projects with our 3D Authoring Module. This module adds the ability to create 3D segments in your playlist with menu offset values, and creates replication ready BD3D disc images that can be played on any Blu-ray 3D player. Learn More
AVC Encoder
The DoStudio AVC Encoder is an easy-to-use and cost-effective encoding solution for Blu-ray Disc™ media. With support for Primary and Secondary (Picture-in-Picture) video streams, and a workflow optimized for the DoStudio Authoring environment, it's a great add-on to your DoStudio EX purchase. Learn More
DoStudio Authoring EX Edition System Requirements
Windows® 7. XP and Vista (32-bit or 64-bit). Currently DoStudio is certified for US English versions only.
.NET Framework Version 3.5
CPU: 2.5GHz (or above)
4GB of RAM (8GB preferred)
NVIDIA GeForce 8400 (or above) or ATI Radeon HD 2400 (or above) for software BD player
Enterprise Blu-ray Disc™ Authoring

Blu-print™ software is the optimal solution for Blu-ray Disc™ authoring, designed for high-volume production. Create titles in BDMV-compliant HDMV movie mode or BD-J mode.

DoStudio products empower you to create high-quality, replication ready Blu-ray Disc™ titles with interactive pop-up menus, complex interactivity, and dual 1080p 3D streams.

Choose from our encoder packages to bring high-quality Blu-ray Disc™ compliant encoding to your studio. Sony offers encoders for MPEG-2, H.264/AVC HD, and MVC 2D and 3D.
Resources
Blu-ray subtitles with DoStudio
To add subtitles to a Blu-ray project in DoStudio, you'll need an understanding of several details, including proper .dost file formatting, subtitle image file preparation, and event requirements for duration and gapless presentation.
Go