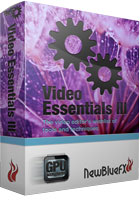 NewBlue Video Essentials III

US$129.95
NewBlue Video Essentials III offers 175 presets in 10 specialized GPU-accelerated* effects. This inspiring collection can fix motion distortion from CMOS cameras, selectively strengthen color and manipulate atmosphere, effortlessly map the four corners of a video insert over a scene, soften jagged edges on text and graphics, and employ dozens of other techniques designed to solve your everyday production issues. *Rolling Shutter is not a GPU-accelerated plugin.

This collection includes: Auto Contrast, Diffusion, Dual Booster, Edge Smoother, Gradient Tint, Image Mapper, Proportion Helper, Rolling Shutter, Split Screen, and Spotlight.
Auto Contrast — Dynamically adjusts contrast and vibrance, helping achieve well-balanced visuals without tedious keyframing.
Diffusion — Makes your clips bloom in seconds. Give a soft glow to wedding footage or an otherworldly aura to your next sci-fi epic.
Dual Booster — Provides an innovative way to independently affect darker and lighter parts of an image, going from subtle enhancements to artistic expression.
Edge Smoother — Selectively softens jaggy edges on text and graphics to blend your scenes together — it's the next best thing to true anti-aliasing.
Gradient Tint — An invaluable evolution of a key photographer's filter, gives you the power to bring out blue skies, selectively affect color ranges, and more.
Image Mapper — Makes it easy to superimpose a smaller image within your scene, and you can even curve the edges for flexible shapes.
Proportion Helper — Assists your scene composition and balance by providing practical guidelines to arrange elements.
Rolling Shutter — Repairs common wobble and skew damage which affects many video cameras using CMOS sensors.
Split Screen — Elegantly divides your image in a few clicks for compositing — no messy math required.
Spotlight — Provides a versatile way to bring focus to your subjects and apply finishing touches such as background blur.
System Requirements:
Vegas Pro 8.1, 9.0, 10, 11 OpenFX (32/64-bit versions), Vegas Movie Studio 4 or higher