Getting on board with the 4K revolution
Over the past 10 years or so, we've all been settling into the idea of HD video. Most videographers have made the switch from standard definition DV deliveries to shooting and delivering at 1920x1080 or some other HD format. But as usual, technology marches on, and several years ago we started hearing rumblings about a 4K workflow.
The first cameras to make a real ripple in the market as being capable of shooting 4K footage came from Red. With the success of those initial cameras, and with ever-improving camera technology and storage solutions, the 4K industry has grown steadily since then. Today, it seems safe to say that 4K stands poised to become a new standard in the video industry, not only for high-budget feature films, but also for TV dramas, entertainment shows, documentaries, and commercials.
One significant reason that 4K has so rapidly approached viability in these areas is the introduction and subsequent popularity of several 4K-capable cameras from Sony.  Along with three of these cameras—the F65RSPAC, PMWF55, and PMWF5—Sony has developed the XAVC and XAVC S formats. The cameras also support a RAW workflow. Let's dig into these technologies a bit to see what they're all about. Once you understand them, you'll be able to evaluate the cameras and equipment needed to work with them and decide whether or not the time is right for you to jump into a 4K workflow.
In technical terms, the XAVC format utilizes MPEG-4 AVC/H.264 level 5.2. Of course throwing even more acronyms at you doesn't exactly clear things up, but what this means in English is that XAVC technology is based on the highest picture resolution and frame rate video compression codec available. The H.264 standard provides a high-performance, yet efficient, compression technology that enables images to be recorded on affordable memory cards and edited on typical video editing workstations with non-linear video editing software applications, including Vegas™ Pro 12 which handles these files natively.
The XAVC format has been designed for maximum flexibility and supports two different 4K resolutions as well as 2K resolutions, HD, and proxy resolutions. It also supports up to 180 frames per second (in HD; 60fps in XAVC), 4:4:4, 4:2:2, and 4:2:0 color sampling, refined gamma (S-log), and color depths of 8-, 10-, and 12-bit. In other words, the format is highly flexible and enables videographers to future proof their work.
The table in Figure 1 provides an XAVC format overview.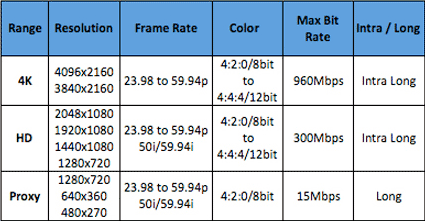 XAVC has been developed as an open format, which means that manufacturers other than Sony can develop their own products based on the technology. This will enable manufactures to serve countless niches in the video production world and target very specific and particular workflows.
Sony then developed another version of XAVC— XAVC S—to put 4K workflows in reach of more and more users in the consumer market as well. XAVC S supports 4K, HD, and proxy workflows, and also utilizes the MPEG-4 AVC/H.264 codec.
So, what's the difference between XAVC and XAVC S? What it really boils down to is that XAVC serves digital cinema with standards of 4096x2160 resolution and MXF files. XAVC utilizes an MXF wrapper to serve this market. The XAVC format can also support a 3840x2160 resolution. While still considered 4K, this resolution—a quadruple of 1920x1080 resolution— is aimed more at broadcast. You'll often here this resolution referred to as Ultra HD Television or UHDTV. Most 4K home displays will be restricted to this resolution.  Because XAVC supports both of these 4K resolutions, you can use it (and the cameras that shoot it) for both cinema and television projects.
On the other hand, XAVC S is aimed squarely at the television broadcast market. It supports only the slightly lower 3840x2160 resolution and utilizes an MP4 wrapper which is more widely supported by consumer-level devices. Of course, there are other differences between the two formats, but the important point to understand is that while XAVC provides the highest of the high-end digital cinema capabilities, XAVC S gives producers who don't need to meet digital cinema requirements a more economical way to bring a 4K workflow to their projects.
Because XAVC is a compressed format—yet still maintains exceptionally high quality—it yields a very manageable file size. In fact, as you can see in Figure 2, the size of a 4K XAVC file compares very favorably to high-bit-rate HD files. This makes it completely practical for the new cameras, such as those from Sony, to shoot at 4K. For instance, when shooting to a 128GB SxS Pro+ memory card, the PMW-F55 records up to 50 minutes of 4K/24P video.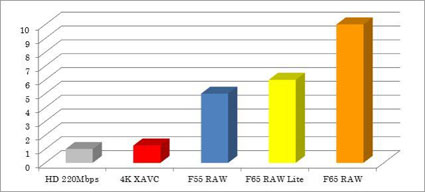 This makes shooting in XAVC a very attractive alternative to shooting uncompressed RAW footage, (which several cameras from Sony and other manufacturers can also do). In fact, that same Sony F55 shooting RAW yields a file size almost five times as large as the XAVC file. You can see then why the excitement around XAVC is quickly mounting.
Many hardware manufacturers and software developers are getting on board with XAVC and moving into 4K. Of course, as already discussed, several Sony cameras are already available for shooting XAVC. Naturally, Sony is at the forefront when it comes to editing XAVC footage too. Vegas Pro 12 supports a complete 4K workflow when you're working with XAVC and XAVC S, and is part of an overall Sony workflow when you're working with RAW footage.
It's just as easy to work with XAVC and XAVCS footage in Vegas Pro 12 as it is to work with any other footage. First, you need to pull you video clips off of the camera and into your project. To do so, connect your camera or card reader to your computer via a USB connection and then choose View | Device Explorer. Your camera or reader appears in the Device Explorer's device list. Click to select the device and the thumbnails of the clips on your card appear. You can see my Device Explorer window in Figure 3.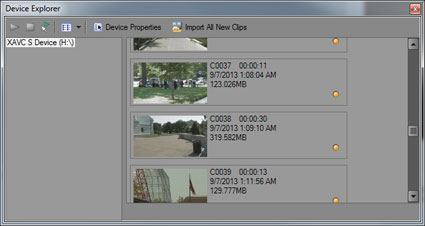 If you want to import all of the clips on your card, click the Import All New Clips button. If you want to import just a specific clip, click the thumbnail to select it and then click the Import Selected Clips button. Hold the Ctrl key while you click thumbnails to select multiple clips and import each of them in one operation.
Once you've imported the clips you want onto your computer drive and into your project, they appear in the Project Media window and you can add them to the timeline from there just like you would add any other media. Then, use all of your favorite editing techniques to build your project.
Of course, working with 4K files can be taxing on your computer, especially if you don't have the most powerful machine to edit on. If you find that your computer has trouble keeping up with your XAVC or XAVC S footage, consider using the new proxy feature in Vegas Pro 12. With this feature you can create a lower-resolution file to edit with and then swap back to the original 4K file when you're ready to render your project.
To create a proxy of a 4K clip (or any other clip for that matter), right-click the clip in the Project Media window and choose Create Video Proxy from the menu. Once you've created a proxy, when you preview your project in either Draft or Preview modes, Vegas Pro uses the proxy for preview playback. If you want to view the project with the original clip, preview it in either Good or Best mode. When you render your project with a Video rendering quality setting of either Good or Best, Vegas Pro uses the original 4K media in the render.
Speaking of rendering, you can also render your project back out to the XAVC or XAVC S format to preserve your 4K work. To do so, click the Render As button. Click the Sony XAVC / XAVC S Expand arrow and then select your desired template from the list. Notice in Figure 4 that you can deliver your project in either XAVC or XAVC S at 4K, XAVC at 2K, or XAVC and XAVC S in HD quality.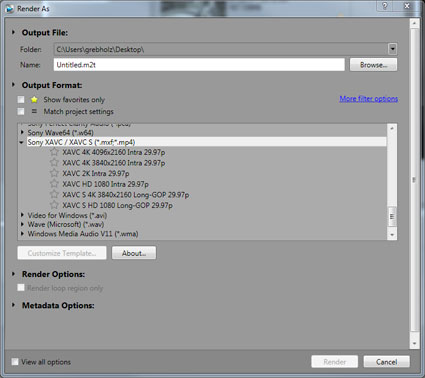 Once you've made your choice, click the Render button to create your file.
If you're working with RAW files, the workflow is similar, but you'll first need to use the RAW Viewer software (available at www.sonycreativesoftware.com/rawviewer), which has been specifically developed to work with RAW files from Sony cameras. From RAW Viewer, export the footage as a DPX image sequence.
Back in Vegas Pro, choose File | Import | Media. Navigate to your still image sequence and select the Stills: Open sequence checkbox. Make any other choices necessary and click Open. Once again, the proxy feature will come in handy here as DPX still-image sequences don't typically work very efficiently on the timeline. Create a proxy and complete your edits. 
One final note on editing footage from some of these new cameras. In some instances, you may also be able to take full advantage of the Vegas Pro 12 S-Log workflow.
As you can see, the new XAVC and related formats—along with the new breed of camera that supports them—are extremely flexible and now make getting into 4K production a reality for more and more editors. And naturally, Vegas Pro 12 stands poised to be a leader among non-linear editing applications when it comes to taking full advantage of this new technology.
For more training resources, including videos, webinar archives, books, article archives, and more, visit the training section of our website at www.sonycreativesoftware.com/training.

Gary Rebholz, is the training manager for Sony Creative Software. Gary produces the popular Seminar Series training packages for Vegas Pro, ACID Pro, and Sound Forge software. He is also co-author of the book Digital Video and Audio Production. Gary has conducted countless hands-on classes in the Sony Creative Software training center, as well as at tradeshows such as the National Association of Broadcasters show.