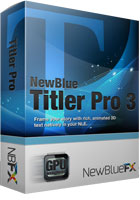 NewBlue Titler Pro 3

US $299.95
Building on the efficiency and sophistication of Titler Pro 2, Titler Pro 3 focuses on accelerating your workflow while adding some exiting new aesthetics, including normal maps, depth of field blur, and a palette of blending modes. Frame your story with a titling solution that works the way you work.
New Features and Improvements
Title Manager
Control multiple titles from a single template by marking any paragraph or texture in a project design as a variable asset. Then quickly and easily Edit text and/or change multiple titles in one convenient interface.
Quick Edit UI
Simply and easily update text and images from a title design without opening the full Titler Pro user interface; great for versioning and quickly making simple changes on the fly.
Elastic Timeline
Add fixed and elastic region markers to your title design template, resulting in the more intelligent scaling of animations while adjusting clip duration of the titles on your NLE timeline.
User Interface Improvements
Show/Hide video tracks in your timeline
Collapse and expand track details to reduce clutter while working on designs
Select multiple paragraphs and adjust their position and orientation together
Apply styles and edit design parameters of multiple elements at the same time
Additional output options such as PNG stills, MOV and even Stereoscopic (side-by-side)
System Requirements
Works with all OpenFX enabled versions of Vegas Pro and Movie Studio software. Requires a hardware GPU (AMD or NVIDIA)