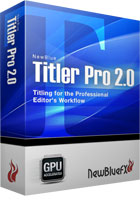 NewBlue Titler Pro 2

US $199.95
NewBlue Titler Pro 2.0 takes the ground-breaking efficiency of the original Titler Pro and adds stunning visual appeal and sophistication. With the addition of custom lights, bevels and additional texture options, the perfect look can be dialed in. Through a simple and intuitive interface, tap into rich styles and dynamic animations which will enliven your production, while avoiding the time and learning curve necessary in other titling solutions.


Create compelling titles in minutes, using convenient templates and styles
Make motion titles without having to know key-framing
Make rich character styles using combinations of multiple 2D and 3D layers
Transition between multiple pieces of text over time within one Titler project
100% GPU accelerated means no waiting for results to render
Add more NewBlue effects and transitions for even richer compositions
Output high-res, beautifully rendered results for maximum production value
System Requirements
Vegas Pro 11 or higher, OpenFX (32/64-bit versions)
Customer Reviews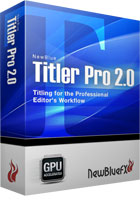 NewBlue Titler Pro 2
not for stereo 3D
The extrusion feature is a 2D graphic effect, it does not create 3D geometry that can be seen in parallax with a stereoscopic camera setting. Useless for stereo 3D, as the "fool the eye" is obvious and not even funny. 3D track motion works and orientation of the plane within Titler Pro 2 works, but these I could get in Titler Pro 1. What I wanted was 3D geometry from extrusions that would show parallax, and version 2 does not provide this. Tech support is evasive about this but the admission is there if you read around the sophistry. If you want true stereo with fonts you will have to make and render pairs with a 3D graphics program and import this into Sony Vegas Pro.
October 16, 2013
Traditional and superlative tool
I've been deleted my old stand-alone 3D graphic titling software.... and i purchaised it 4 years ago... this because i felt free to use this plug-in for a complete titling solution. On of the biggest goal is that i use this one directly in Vegas... no more rendering exports, no more alpha channel file, no more extra materials to manage...
August 30, 2013
disaster
My experience with Titler Pro was very bad. Sony Vegas 12.0 (Build 670) 64-bit collapsed every time if i start the Tiltler Pro. Money for nothing ? THX TitlerPro is now uninstal and Vegas works normal. ... actual result ...
August 29, 2013
Good Product to have
I owned bought the version 1 (included on Vegas 11) and have 2 of this version 2. I upgraded titler before I upgraded to vegas 12 which came with this product too. It works a lot better on 64bit platform, old version crashes vegas when loaded or have issue even opening vegas. Workaround was a custom driver but this issues have been addressed on version 2. No more compatibility issues and works wells. Overall this is a great tool for adding text, tho they may be others out there this tool do most of the job required on a video production.
May 1, 2013
Best sofware
i use this sofware more useful thanks fore your product. if you send to me complete in box more save saftey fore me so many thanks.
April 29, 2013