Vegas Pro 9: Sometimes It's the Little Things...
by Craig Anderton
Sony Vegas Pro 9 software is out, and you've probably heard about the "big" features, like support for 4,096 x 4,096 frame sizes, native video reading/import from XDCAM EX, etc. But sometimes, it's the little features that make a huge difference in your day-to-day work. Here are some of my favorites so far.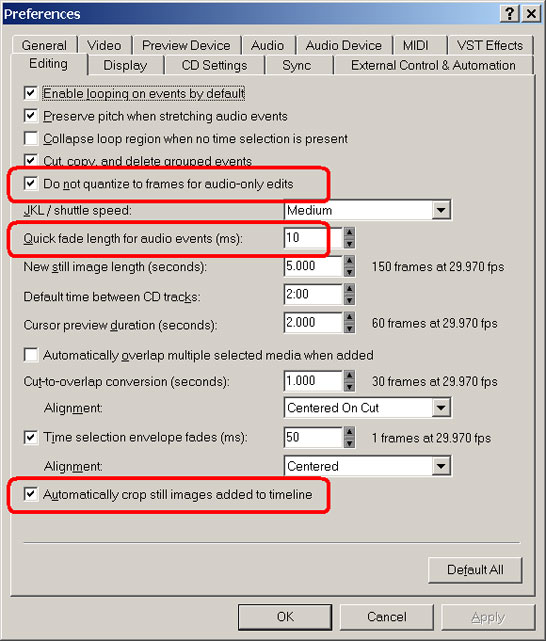 I've often added still images that don't quite match the project's output frame proportions, which meant I had to check "Match Output Aspect" for each still (or copy one done correctly, then "Paste Event Attributes" into the rest). Worse yet, sometimes I wouldn't catch the mismatch until after the video had been rendered, requiring a re-render. To banish this problem, go Options > Preferences > Editing, and check "Automatically crop still images added to timeline" (Fig. 1). Click on "Apply," then "OK."
Two other Options > Preferences > Editing choices (also shown in Fig. 1) can simplify working with audio. With music, milliseconds matter and quantizing to a frame might not provide fine enough resolution. However, now the audio can move independently even with video quantized to frames; check "Do not quantize to frames for audio-only edits." Also, experiment with "Quick fade length for audio events (ms)." This applies a fade-in and fade-out to audio clips when you cut or split them, which can help eliminate clicks. Specify a time in ms; 10ms is "safe," but if that's not crisp enough for percussive sounds, try 5 to 7ms. Conversely, with narration you can use longer times, like 20ms. This is a huge time-saver if you spend time adding fades to individual clips.
Vegas' new "dark editing room" color scheme is easy on the eyes, but you can still use your Windows Theme settings—go Options > Preferences > Display and uncheck "Use Vegas Color Scheme." While you're there, observe what happens if you increase the "Icon color saturation" and "Icon color tint" sliders to 100% and click on "Apply." The icons really "pop," regardless of the color scheme you're using, and makes them easier to parse.
Ever have Vegas freeze while rendering a really, really big still image? I have, and had to track down the offending picture, open it up in an image editor, re-size, and then re-load into Vegas. No more: Vegas Pro 9 handles high-resolution/high-memory pictures with ease.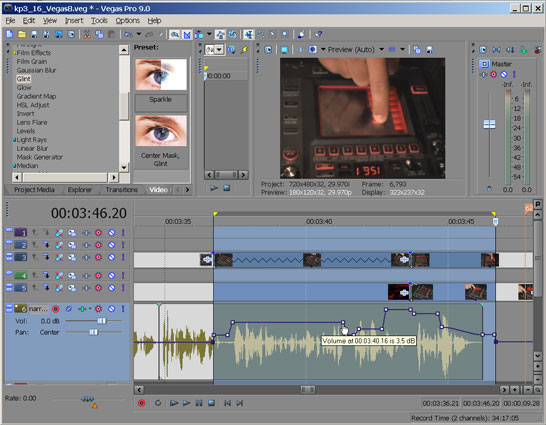 I use audio envelopes a lot to optimize gain, but dragging one node at a time when I want to alter a whole phrase worth of envelope nodes is tedious—fortunately, when you do a time selection on an envelope in Vegas 9 (i.e., dragging across the timeline and selecting a track), all nodes in the time selection will move when you move just one of them (Fig. 2). Better yet, they all move ratiometrically (to preserve the balance) compared to linearly.
Finally, I just have to mention the new video FX, which are wonderful (and are readily identified by their new UI). "Rays" takes Light Rays to a new level—and you'll love what happens when you use keyframes to add real-time changes. There's the ever-popular "Starburst," "Defocus" is a new addition to the Blur family, "Soft Contrast" works as expected but also brings hue and tint into play, and "Fill Light" is one of my favorite enhancers for product shots because it can bring out relief and color with an almost 3D effect.
Of course there's more to Vegas 9 than just these high points... but these alone have made the upgrade worth it.


Craig Anderton is currently editing and mastering the latest CD from classical guitarist Margarita Escarpa. He's also worked on classical projects by harpsichordist Kathleen McIntosh and Argentinian guitarist Nestor Asqui. Photo by Paul Haggard.