HitFilm 3 Pro
Included with Vegas Pro 13 Suite is HitFilm 3 Pro. This powerful visual effects software merges professional 3D compositing and over 180 effects with live rendering on the Vegas timeline. Featuring an industry-leading toolkit and a world class particle simulator, HitFilm 3 Pro gives you total control and customization of your built-in effects, including color correction and grading tools.
Project integration with Vegas Pro
Send the contents of a Vegas Pro event directly from the Vegas Pro timeline to a new HitFilm 3 Pro project. Add visual effects and compositing in HitFilm and save your changes which automatically updates the media back in Vegas Pro. Seamless integration makes for an amazingly efficient and powerful post-production workflow.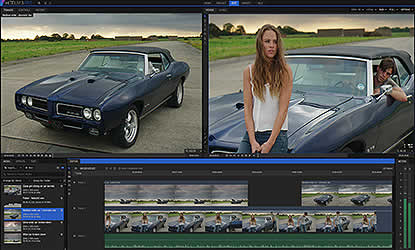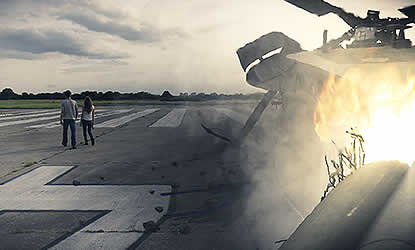 Over 180 effects included
HitFilm 3 Pro contains over 180 professional effects including fire and lightning, gunfire, 3D camera projection, lens flares, heat distortion, invisibility, cloning, glitches and grunge, titling and textures. Enhance your cinematography with an endless toolbox of amazing effects.
3D model support and rendering
It's easy to import 3D models to HitFilm 3 Pro and animate your scenes. Because everything works in true unified 3D space, your models work with the cameras to accurately simulate depth of field, motion blur, multiple light types, full self-shadowing and shadow casting onto other layers.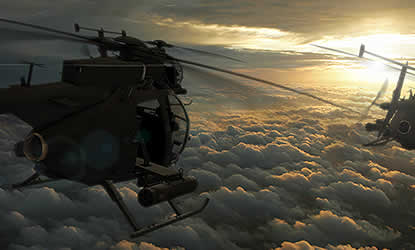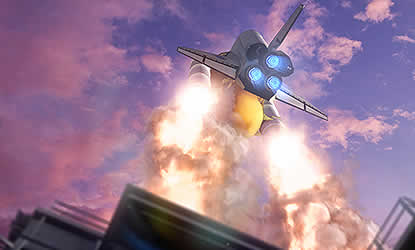 Professional particle simulation
HitFilm 3 Pro has a world-class particle simulator including amazing 3D physics, dynamic forces, and multiple collision deflectors. Plug in 3D models as textures to create fleets of ships, sprawling cityscapes, asteroid fields or a hail of arrows.
Includes 130 HitFilm Plugins
HitFilm 3 Pro also comes with 130 premium plugins which work directly inside Vegas, without needing to switch products. Expand your toolkit and improve your workflow choices.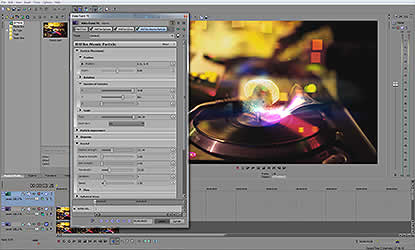 Tracking masks with mocha HitFilm
Academy Award-winning planar tracking is provided by a special version of mocha from Imagineer Systems. Solve 3D camera moves and automatically track masks, saving you hours of time.
Professional green screen
Advanced chroma key combines with sophisticated 2D and 3D layering to create greenscreen composites so realistic your audience will never even know.
Atomic particles
Create awe-inspiring particle clouds in HitFilm 3 Pro based on 2D shapes or 3D geometry, then warp them into organic forms. You can even mix in an audio clip to automate the animation, or apply them directly to 3D objects.
All in the family
All of the products in the Vegas Pro family make it easy to import and edit movies, images, and music so you can jump right in and start creating your next video or audio masterpiece. Whether you're a beginner, an experienced filmmaker, or a professional broadcast producer, there is a Vegas Pro solution to meet your needs. See the full Vegas family comparison.

Resources
Sony Vegas Pro 13: Review
"The software comes with the editing features and effects that you would expect from a professional editing application and many that exceed the norm." Odin Lindblom, VizWorld
Read the review