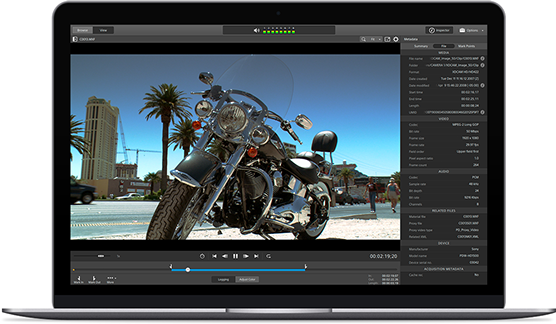 Go beyond browsing and viewing to a full-featured media preparation and logging tool.
Feature
Catalyst Browse
Catalyst Prepare
Format
DPX
✓
✓
Open EXR
✓
✓
DNxHD
✓
ProRes (read-only on Windows; read/write on Mac)
✓
✓
X-OCN
✓
✓
XAVC Intra
✓
✓
XAVC Long GOP
✓
✓
XAVC S
✓
✓
XDCAM formats
✓
✓
SStP
✓
✓
H.264
✓
✓
WAV (write only)
✓
MP3 (write only)
✓
Organize
Copy clips with checksum verification
✓
Copy between mark in/out for individual clips or a selection of clips
✓ (MXF/EX)
✓ (Any File)*
Storyboard creation
✓
Batch renaming with prefix, numbering, and suffix
✓
Manage audio channels in multi-channel audio files
✓
Drag and drop to copy between folders (and bins in Prepare)
✓
Media bins
✓
Export
Batch transcode
✓ (if same source settings)
✓
Transcode between in and out points
✓
✓
Export with color settings
✓
✓
Export storyboard as EDL (Catalyst Edit, Vegas, Final Cut, Premiere)
✓
Full volume backup with checksum verification
✓
Upload original clips to Ci
✓
✓
Upload clips to Ci in a transcoded format
✓
✓
Upload clips to Ci with color settings
✓
✓
Upload clips to Ci with burned-in timecode and/or clip name
✓
Upload clips to YouTube
✓
Color Grading
Global color adjustments
✓
Per-clip color adjustments
✓
Batch apply color presets and looks to a selection of clips
✓
Sony device color space controls (S-Log, S-Gamut)
✓
✓
Apply ASC-CDL to a selection of clips
✓
High-quality Sony RAW development
✓
✓
Three-wheel color grading
✓
✓
Curves grading
✓
✓
Import/export color correction settings as ASC-CDL or 3D LUT
✓
✓
Tangent devices support (Tk/Mf/Kb/Wave)
✓
✓
Other
Interoperability with Catalyst Edit
✓
Drag and drop to Catalyst Edit timeline
✓
GPS metadata
✓
✓
GPS metadata map display
✓
Flash band correction
✓
✓

*Partial copy in Prepare requires transcode for some formats
Catalyst Browse system requirements
A 64-bit operating system: Windows 10 or macOS 10.12 (Sierra), 10.13 (High Sierra), or 10.14 (Mojave)
2 GHz processor (multicore or multiprocessor CPU recommended for HD; 8 cores recommended for 4K)
500 MB hard-disk space for program installation
Solid-state disk (SSD) or high-speed RAID for 4K media
4 GB RAM (8 GB recommended; 16 GB recommended for 4K)
NVIDIA, AMD/ATI, or Intel GPU with support for OpenCL 1.1 or later with at least 1024 MB of memory (2 GB recommended for 4K preview, HD rendering, or HD video stabilization; 4 GB recommended for 4K rendering or 4K video stabilization) or a CPU with SSE 4.2 or higher. OpenGL 2.1 is recommended for optimum performance. OpenGL 4.1 is required for video stabilization.
Zur Aktivierung der Software ist es erforderlich, dass Sie Sony Creative Software Inc., einem US-Unternehmen, die Registrierungsinformationen mitteilen. Für das Produkt ist eine Online-Registrierung erforderlich.